June 21, 2016 (Carson City, Nevada) – Geoff Kabush (Can) Scott-3Rox Racing signaled that he's on form coming into the 2016 MTB Worlds in Nove Mesto, CZE, this weekend as he topped the Pro Men's field on the Sunday at the 80.47km (50-mile) Carson City Off-Road Backcountry Race.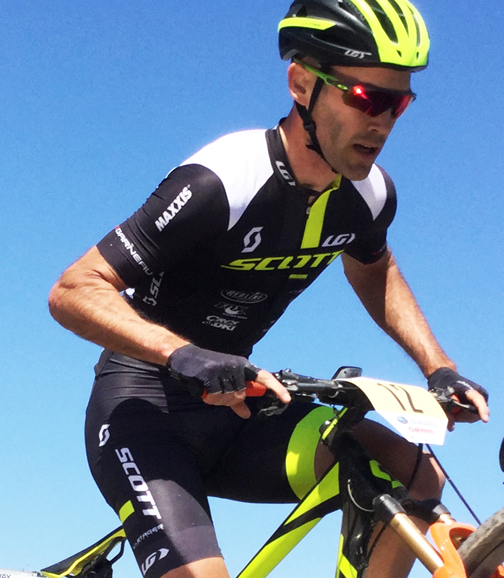 Ben Sonntag (Clfff Bar) finished second and veteran rival Todd Wells (SRAM-TLD-Scott) was 3rd. Jeremy Martin (Focus Bikes – Smith MTB – iWill Pro Cycling) was the next best Canuck in 5th.
In the Pro Women's race Maghalie Rochette (Luna Pro Team) was the lone Canadian in 9th as her teammate Katerina Nash (Cze) took the win with USA Marathon Champ, Rose Grant (Stans NoTubes,/Pivot Cycles), second and Amy Beisel (RideBiker | Isoride | LIV) third.
Results
Pro Men
1. Geoff Kabush (Can) SCOTT-3Rox Racing, Maxxis, Shimano, Oakley, Fox
3:18:15
2. Benjamin Sonntag* (USA) Clif Bar, Niner, Maxxis
01:09
3. Todd Wells* (USA) SRAM TLD Scott
01:10
4. Russell Finsterwald (USA) SRAM | TLD Racing Team
01:10
5. Jeremy Martin (Can) Focus Bikes – Smith MTB – iWill Pro Cycling
03:57
6. Payson Mcelveen* (USA) Team RideBiker p/b Sho-Air
04:26
7. Spencer Paxson (USA)
05:13
8. Troy Wells* (USA) Team CLIF Bar, Niner Bikes, SRAM
07:02
9. Bryan Dillon* (USA) Topeak-Ergon, Canyon, SRAM
07:11
10. Carl Decker* (USA) Giant Bicycles, SRAM, Schwalbe Tires
08:25
11. Adam Bucklin* (USA) Team Rwanda
08:27
12. Jamey Driscoll (USA) Raleigh, Clement
09:39
13. Kyle Trudeau* (USA) CZ Racing, Go Tenac
09:40
14. Justin Lindine (USA) Apex / Hyperthreads / Vittoria
09:41
15. Nic Beechan* (USA) Trek Test Team, Shimano, Ryno Power
11:52
16. Brian Matter* (USA) Team Wisconsin, Trek, Shimano
15:47
17. Pablo Fernandez* (USA) jarritos, bicycle co., no tubes nm
16:05
18. Menso De Jong* (USA) Clif Bar, Niner Bikes, SRAM
18:36
19. Kerry Werner (USA) N/A
18:37
20. Adam Craig (USA) Giant Factory Off-Road
19:07
21. Justin Thomas (USA) TCI Wealth Advisors / Great Basin Bike Shop / Yeti
19:59
22. Jorge Munoz Jr. (USA)
20:06
23. Eric Bostrom (USA) Ridebiker/Specialized
22:31
24. Tim Racette* (USA) McDowell Mountain Cycles, Mikes Mix Recovery Drink, Crank Brothers
23:27
25. Barry Wicks* (USA) Kona, Maxxis, Shimano
24:16
26. Kris Sneddon* (Can)
24:35
27. Stephan Davoust (USA) Giant Bicycles/SRAM/Schwalbe Tires
24:41
28. Mark Flis (USA) Squadra, Spy Optics, My Wife
25:32
29. Weston Rassmussen* (USA) CZ Racing, Go Tenac
28:59
30. Ricky Creel (USA) CZ Racing, Tenac
29:02
31. Cody Kaiser (USA) LangeTwins Winery , Specialized, Greenware
29:46
32. Tyler Jones (USA) parents, HB/sram, Norcal Bike Sport, self?
30:14
33. Ian Wilkey* (USA) Az Devo, Ktm Bike Industries, Bicycle Ranch Tucson
36:05
34. Bryan Little (USA) Giant Co-Factory
36:06
35. Scott Chapin (USA) Santa Cruz Bicycles / FOX SHOX / GIRO
38:55
36. Kurt Wolfgang (USA) Only my full time job (NICA) and Ornot apparel.
39:07
37. Nick Thomas* (USA) AZ Devo, Trek, Bontrager
39:08
38. Cody Schwartz (USA) Folsom Bike, Cycling Development
39:25
39. Daniel Sturm (USA) MTBPHD, sussex bike and sport
41:28
40. Nathan Miller (USA) Roca Roja, POC, Zeal, ENVE
43:33
41. Ian Stowe (USA) Giro, Santa Cruz Bicycles, Oakley
48:35
42. Joseph Williams (USA) Giant
57:20
Pro Women
1. Katerina Nash (USA) Team LUNA, CLIF Bar, Orbea, Shimano, Fox
3:52:50
2. Rose Grant* (USA) Stans NoTubes, Pivot Cycles, Shimano
01:48
3. Amy Beisel* (USA) RideBiker | Isoride | LIV
04:27
4. Jennifer Smith* (USA) Stans NoTubes, Cannondale, Kenda Tires
12:44
5. Serena Bishop Gordon* (USA) LIV | Giant, Clif Bar, Julbo
13:32
6. Courtenay Mcfadden (USA) American Classic, Zones, WD40 Bike
18:56
7. Marlee Dixon* (USA)
19:22
8. Erin Alders* (USA) Ride Biker Alliance, Sho-Air, SQ Lab
23:04
9. Maghalie Rochette* (USA) LUNA Pro Team (Clif Bar), Shimano, Fox
24:40
10. Suzie Snyder (USA) Sierra endurance Sports, Hyperthreads, Optic Nerve
25:23
11. Olivia Dillon (USA) Velocio
32:47
12. Liza Hartlaub (USA) Pivot Cycles, DNA Cycling
39:47
13. Jen Hanks* (USA) Pivot Cycle, DNA Cycling
42:19
14. Sian Crespo* (USA) Bike Like a Girl, O2-Fitness, Silver Sage Sports and Fitness
46:37
15. Amber Broch (USA) Northstar at Tahoe, Maxxis
1:05:56