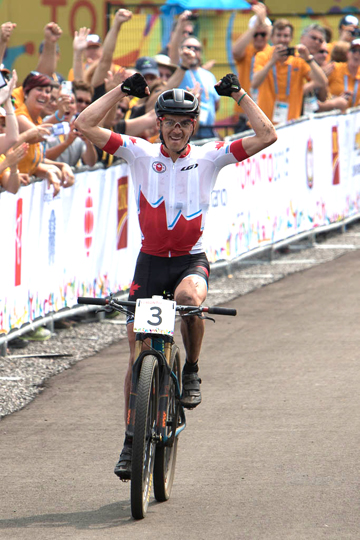 July 12, 2015 (Barrie, ON) – In hard-fought battle Raphaël Gagné took home another gold for Canada for the biggest win of his career soloing across the line in the men's 31.2km 6-lap race at the TO2015 Pan Am Games held on Sunday at Hardwood Ski and Bike near Barrie.
Catriel Soto (Argentina) took second with Stephen Ettinger (United States) in third as former Canadian MTB champ, Derek Zandstra, claimed 4th. Gagné's win is Canada's third cycling gold of the Games.
"This is definitely the biggest win of my career," said Gagné. "I couldn't believe the crowds here. We have big World Cup races at Mont-Sainte-Anne near my hometown but I've never experienced something like this."
Gagne had changed up his routine a bit this year by going a bit easier at the beginning to save something for the end of the season. His strategy is paying dividends as he recently captured another prestigious title – the US CUP Pro Series XCT crown. And he was in good company as the women's winner was Catharine Pendrel, the reigning MTB Worlds champ – read more here.
Both Gagne and Zandstra were up front following the start but as the lap unfolded a threesome formed at the front with the USA's Steve Ettinger forcing the pace as Catriel Soto of Argentina and Gagne were just behind as Zandstra trailed in fourth getting caught up in traffic.
Ettinger started to fade by lap four of six, dangling at 10 seconds behind Gagne who took over the lead, with Zandstra now at 1:35 behind as it tough to make up the deficit. Further back Fabio Castaneda Monsalve (Colombia) caught Rubens Donizete Valeriano (Brazil) in 5th at another minute behind Zandstra.
On the final lap Soto attacked and put a 5-sec gap on Gagne. "I closed it on Boneshaker and then attacked right after but it didn't work. Finally on the second last climb I put the hammer down, pulled a good gap, and never looked back. It's hard to believe I've done it."
The crowd roared when they heard that Gagne was on his own and as he rounded the final corner to the finish it erupted as Gagné was all smiles raising his arms to cross the finish line for the biggest win of his career. "The fans were awesome and it was great to feed off their energy and deliver a win here," added Gagne.
Zandstra hoped for more but knew he was out of the running on the first lap. "The crowds were great – it was amazing to see so many people here, and lots of familiar faces. I lost it on the first lap when I got caught up and couldn't stay with the leaders – then it was too tough to close the gap. It's disappointing but that's racing and it's great that Raph took the win for Canada."
So is Gagne now a marked man? "Sure but I'm ready to let my legs do the talking," quipped the winner. With the Canadian MTB Nationals up on July 18 in Ste-Felicien, QC, look for more fireworks.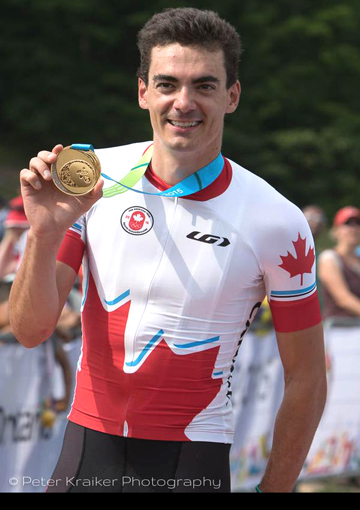 Results
1. Raphaël Gagné (Canada)    1:31:14
2. Catriel Soto (Argentina)    0:50
3. Stephen Ettinger (United States)    1:48
4. Derek Zandstra (Canada)    2:52
5. Fabio H. Castaneda Monsalve (Colombia)    5:16
6. Spencer Paxson (United States)    5:23
7. Rubens Donizete Valeriano (Brazil)    5:23
8. Andrey Fonseca Urena (Costa Rica)    6:42
9. Jose Ulloa (Mexico)    7:49
10. Jose Alberto Gonzalez (Ecuador)    8:02
11. Luciano Caraccioli (Argentina)    8:12
12. Jonathan Mejias Gonzalez (Venezuela)    8:47
13. Jhonnathan De Leon (Guatemala)    9:24
14. Javier Puschel Niklitschek (Chile)    10:43
15. Patricio Farias (Chile)    11:34
16. Luiz Cocuzzi (Brazil)    13:35
17. Jose Escarcega (Mexico)    13:37
18. Willian Tobay Mogrovejo (Ecuador)    -1 lap
19. Andres Gelpes (Uruguay)    -1 lap
20. Santana Kian (Uruguay)    -2 laps
DNF Luis Anderson Mejia Sanchez (Colombia)