April 12, 2016 (Toronto, ON) – On Saturday, April 16, the Canadian Olympic Committee will award the 2015 IOC Trophy for Sport and Innovation to FitSpirit founder and elite athlete, Claudine Labelle. An authentic leader, Claudine Labelle created the FitSpirit foundation to impart her passion for physical activity to an entire generation of young women.
Backed by prominent national partners, this former elite cyclist has actualized her vision of promoting physical activity and healthy eating. The impact has been major: to date, the FitSpirit movement has reached more than 110,000 teenage girls in Quebec and Ontario.
"Claudine's dedication and commitment to her initiative of promoting healthy eating and physical activity to young women across Canada with FitSpirit is an inspiration. Her initiative has reached tens of thousands and changed lives across Canada. Congratulations Claudine, you are someone who is really making a difference in our country," said Tricia Smith, President, Canadian Olympic Committee.
Over and above the FitSpirit success, Claudine's work has been widely recognized. Among other honours, she was elected an Ashoka Canada Fellow in 2010, and received the Montreal YWCA's Woman of Distinction Award in 2012 (sports and well-being) and the 2013 Ernst & Young Special Citation – Social Entrepreneur.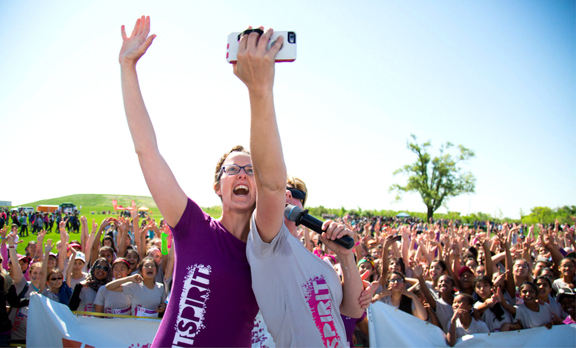 Since its founding in 2007, FitSpirit has created awareness among thousands of teenage girls in this country. Its flagship program, FitClub, encourages girls to enjoy the benefit of getting active with friends, and can be found in more than 100 high schools and elementary schools in both provinces, with more than 10,000 participants for the 2015 edition.
"At 4 years old, I experienced my first Olympic emotion when watching the opening ceremony. Since that day, the Olympic energy never left my life and even more has inspired me to achieve my dreams and projects. The most recent in this journey is to have exposed, with FitSpirit, more than 110,000 teenagers to the fun that comes along with doing physical activity together. I am honoured to be receiving this award, " commented Claudine Labelle, Founder, FitSpirit.