June 29, 2014 (Lac Mégantic, QC) – The pressure was on Manitoba's Leah Kirchmann (Optum p/b Kelly Benefit Strategies) to claim the Triple Crown while defending the criterium jersey. Kirchmann set the stage for this historic trifecta by powering to victory in the Elite Women's ITT on June 26 and then claiming the road race title the next day.
In classic style the Optum team engine delivered Kirchmann to the line for the bunch sprint and she rose to the occasion claiming the victory in the 28-lap Elite Women's Criterium on a beautiful sunny Sunday afternoon in Lac Mégantic, as the curtain would soon fall on the 2014 Global Relay Canadian Road Cycling Championships.
The race began with electricity in the air as Kirchmann and her teammates Annie Ewart and Denise Ramsden were soon up the road and it looked like a fait accompli. Anika Todd (Tibco) joined them but destiny had other plans and by the midway point the pack was all together again.
"It was our plan to try to get in a breakaway like that. I was pretty excited when all of my teammate were in it," confided Kirchmann. "Unfortunately for us, the peloton behind us was pretty well organized. It was also windier than we thought, which made it hard to keep the pace up. We stayed out there for as long as we could." Complete interview with Kirchmann below.
The waiting game began as the Optum women bided their time, and despite a few small flurries, the pack remained together until the final lap. The race ended in a bunch sprint, and Ewart and Ramsden knew what they had to do to set up their teammate. Kirchmann the pro, made no mistake in the final stretch.
"Once we got caught, we were still pretty involved. In the end my teammates were able to put together a killer leadout…coming into the final lap, I stayed on Annie's wheel on the descent. Then Denise took over and set a fast pace. Annie carried me away to the final stretch to launch the sprint," commented a smiling Kirchmann.
At the finish line Joanie Caron (QC) Garneau-Factory took second and Jamie Gilgen (ON) RealDeal-Gears was third as Kirchmann made it four crit titles since 2010 (she missed in 2012) claiming the first ever road Triple Crown (not yet officially confirmed but we believe it's a historic record).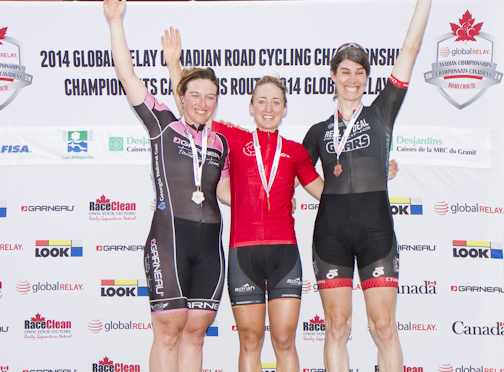 One thing that is certain is Optum's domination of the women's races at the Canadian Championships over the past two years taking home all titles for the second consecutive year.
Full results here.
Interview with Leah Kirchmann by Pasquale Stalteri