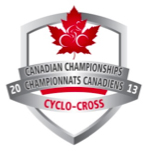 October 18, 2013 (Surrey, BC) — Registration now open for Top domestic cyclo-cross race of 2013. Cycling Canada is proud to launch initial details of the upcoming 2013 Cyclo-cross Canadian Championships, to be held in Surrey, BC on November 30th.
The event is expected to attract the best cyclo-cross racers in Canada to Surrey to race on a brand new course giving participants a fresh experience for the 2013 edition of these popular championships.
"We are excited for Cycling BC to build on the success of the 2012 Canadian Championships to host another great event. BC is the hotbed for cyclo-cross in Canada with a large numbers of grassroots riders," said Nicholas Vipond, Competition Coordinator at Cycling Canada.
New for 2013 will be the presentation of a Junior women's national title. This makes the first year that there will be a separate title for the Junior Women. The Junior women's race will be combined with the Elite Women's race as per UCI regulations.
The other Canadian Championship categories will include Elite Men, Elite Women, Espoirs (U23) Men, Junior (U19) Women, Junior (U19) Men as well as Masters 30-39, 40-49, 50+ for the men and Masters 30+for the women.
Cycling BC will also hosts challenge youth races in conjunction with the Canadian Championships. Registration for both the Canadian Championships races and the Challenge categories can be found here.
The BC Grand Prix of Cyclocross UCI C2 race will take place on the following day December 1, 2013, this race will feature elite men's and women's UCI races as well as Cycling BC Challenge categories.
Registration for the BC Grand Prix of Cyclocross can be found here.
More information can be found in the tech guide posted here.
Matt Klymson, Cycling BC's board volunteer as VP Cyclo-cross, is the race director and primary contact, in a collaborative effort between local clubs, cyclo-cross community members, and Cycling BC staff in hosting this event.
Follow Cycling Canada on Twitter at www.twitter.com/cyclingcanada and on Facebook at www.facebook.com/cyclingcanada.