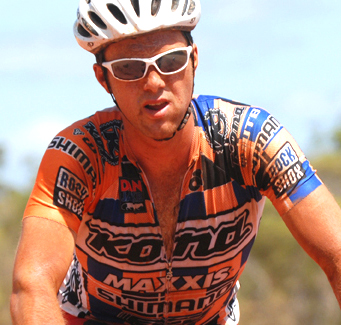 August 25, 2013 (St-Raymond, QC) – Cory Wallace (Jasper, CA) topped the Senior M Elite field with the fastest time at the 97km Raid Extreme Bras du Nord to claim the 2013 Canadian XCM MTB Championship title. The 84 participants included one woman, Sophie Ringuet (St-Ferreol-Les-Neiges, CA) who finished 64th overall. Philippe Carrier (Lac-Beauport, CA) was the fastest Master 40-49 Men while Alain Gagnon (Rimouski, CA) lead the Master 30-39 Men.
In the 70km race Charles Blanchet-Levesque (Lac Beauport, QC) won the Senior Men's category while Matthew Turcotte (Quebec City, QC) was the top Junior in second overall. Ian Carbonneau (Dorval, QC) lead the Master 30-39 Men while Stephen Flindall was the fastest Master 40-49 Men. Former Olympian Pierre Harvey (St-Ferreol, QC) in 25th lead the Master 50-59 Men's field.
Nova Scotia's Kaarin Tae lead the Elite women finishing 12th overall while former great Lyne Bessette (Fuldford, QC) topped the Master 30-39 Women's field. There 218 participants – 184 men and 32 women.
Results
97km Race
1. Cory Wallace (Jasper, AB) Senior M Elite    3:57:22.1
2. Kris Sneddon (Sechelt, BC) Senior M Elite    3:57:24.1
3. Jamie Lamb (Halifax, NS) Senior M Elite    4:03:10.6
4. Marc-Andre Daigle (Laurier-Station, QC) Senior M Elite    4:08:58.9
5. Peter Glassford (Collingwood, ON) Senior M Elite    4:09:33.8
6. Julien Gagne (Sherbrooke, QC) Senior M Elite    4:16:22.2
7. Patrick Chartrand (Sherbrooke, QC) Senior M Elite    4:19:46.6
8. Alexandre Vialle (Prevost, QC) Senior M Elite    4:23:34.5
9. Eric Tourville (Quebec, QC Senior M Elite    4:23:34.6
10. Mathieu Belanger-Barrette (Quebec, QC) Senior M Elite    4:25:51.1
14. Philippe Carrier (Lac-Beauport, QC) Master 40-49 M    4:31:39.4
15. Terry Tomlin (Dartmouth, NS) Master 40-49 M    4:31:39.5
18. Paul Berry (Kamloops, BC) Master 40-49 M    4:38:42.6
21. Alain Gagnon (Rimouski, QC) Master 30-39 M    4:41:57.3
23. Patrick Bellemare (Baie-Comeau, QC) Master 30-39 M    4:43:32.2
25. Marc Plante (Franquelin, QC) Master 30-39 M    4:43:38.6
26. Christian Lalancette (Chicoutimi, QC) Master 50+ M    4:44:08.6
64. Sophie Ringuet (St-Ferreol-Les-Neiges, QC) Senior F    5:39:11.1
70km Race
1. Charles Blanchet-Levesque (Lac Beauport, QC) Senior M 3:18:26.8
2. Matthew Turcotte (Quebec, QC) Junior M 3:18:26.8
3. Ian Carbonneau (Dorval, QC) Master 30-39 M 3:22:41.6
4. Christian Gauvin (Bromont, QC) Master 30-39 M 3:22:52.7
5. Charles Faucher Robert (Quebec, CA) Junior M 22:53.6
6. Stephen Flindall (Quebec, QC) Master 40-49 M 3:22:58.9
7. Danny Chamberland (St-Nicolas, QC) Master 30-39 M 3:26:49.2
8. Jerome Turgeon (Ste-Petronille, QC) Master 30-39 M 3:30:19.0
9. Sylvain Poitras (Shannon, QC) Master 40-49 M 3:30:19.0
10. Dominic Paquet  (Ste-Marie, QC) Master 30-39 M 3:30:20.4
12. Kaarin Tae (Halifax, NS) Senior W 32:11.1
19. Lyne Bessette (Fuldford, QC) Master 30-39 W 3:8:39.2
21. Heather Gray (Kanata, ON) Senior W 3:39:32.6
24. Laurence Harvey (St-Ferreol, QC) Senior W 3:40:25.9
25. Pierre Harvey (St-Ferreol, QC) Master 50-59 3:40:26