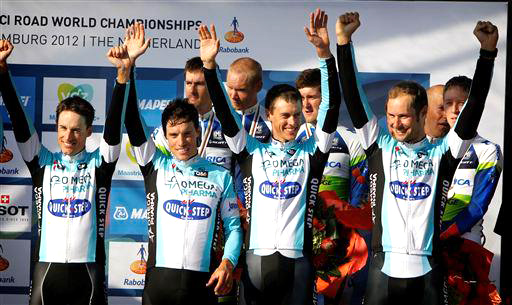 September 16, 2012 (Sittard, NED) – Svein Tuft and his Orica-GreenEdge team were on form on Sunday bringing home a bronze medal, Canada's first hardware from the 2012 UCI Road World Championships, as the Aussie-based Orica-GreenEdge TTT squad claimed third in the Elite Men's 53.2km TTT won by Omega Pharma Quick Step with BMC in second.
Tuft, who has had a very strong year for time trials, helped drive his team to the podium as the penultimate squad of the day to power at just under 50kph to take third place at just over 47 seconds from gold. Happy, but knowing his team wanted a better result, Tuft, a 6-time national time trial champion (and road champ once as well) was beaming, "This has been a very satisfying year with this team, and I still expect good things to happen this week. We all left it out there and while we all wanted more we're proud of what we did as a team – we were all exhausted at the finish.
"It's a great group and it's been a great season and I'm most proud of our efforts this season in the team time trial where we put everything on the line for each other," said Tuft – full interview below.
The Road Worlds were first held in Limburg in 1938 and the crowd-frenzy for this year's edition was high as anticipated. With Sky Procycling not on the starting line up, it was going to be Peter Sagan (Svk) and Vincenzo Nibali (Ita) powering Liquigas-Cannondale to an early lead for the first half of the grueling course. The Italian squad held on until the last three teams settled the final podium score.
Liquigas has been on fire much of the year with the young Sagan at the helm, churning out time trial and one-day classic wins as well as placing high in stage races, so their early lead – 26:16.40 at the first split and 45:56.26 at the second split – was not unexpected as they conquered the course at almost 50kmh looking like they could medal. But the best was saved for last as Tony Martin and Tom Boonen showed the world how they could change their teams' strategy by winning the team time trial.
"We're Belgian, they don't expect us to be good at team time trials," admitted Boonen, grinning as he added, "I didn't expect this medal. In fact I'd rate it as on the same level as winning the world championships myself when you get the team to do something special like this."
Germany's Martin was pensive with his analysis. "The stronger teams should look at the weaker ones and find out how to be better, better not to assume we can't learn from the other." The Belgian-based Omega Pharma Quick Step team prevailed over the  strong BMC squad that featured Americans Taylor Phinney and Tejay Van Garderen, only 3.2 behind the winners.
Perhaps the best quote of today came from Phinney, a former Junior and U23 Worlds TT champion, who's BMC racing team was favoured to beat Omega, claiming, "It was a whole new realm of Hell today."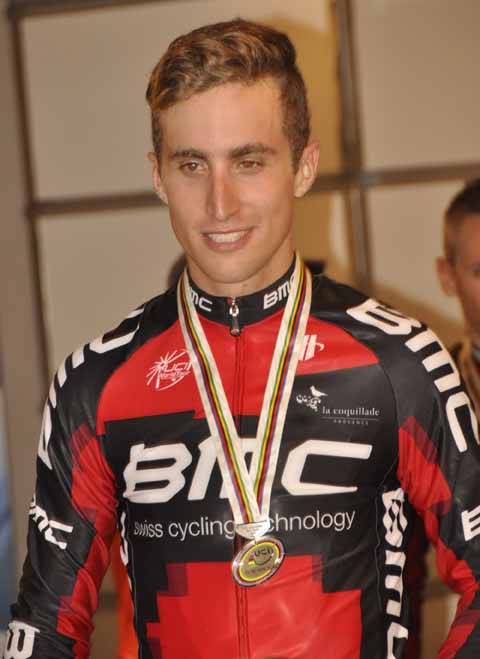 Phinney, a bit miffed, added he would have rather have lost by 20 seconds rather than just over 3 seconds, but conceded, "It brought out the best in me and I have even more motivation for next year – as well as for this week – to perform better. Being only three seconds from silver to gold is hard."
Both Omega and BMC glided over the warm, breezy rolling roads at over 50kmh, but ultimately, the Cauberg climb settled the score as Phinney zig-zagged up the brutal grade, perhaps losing the three seconds there, "You could say I lost three seconds there or over the course of the 50kilometers before that, It's the same thing wherever you lose it, in the end we needed a better result."
Limburg and the Cauberg are synonymous with epic climbs of races being lost and won, and it was no different today, even if it was team against the clock rather than mano a mano with its smooth, 1,200 meter serpentine +5% steepness with the raucous bars at the bottom lined with over-excited tifosi out-doing each other (in their adulation of their team/riders) packed inside the tight sidewalks. It's where the smell of beer, sweat and pure nationalism meld into a cacophony of the senses unique to one of pro cycling's legendary strips of road.
Wednesday, Tuft will have his go at an even better result in the individual time trial at Heerlen, just 14km east of Valkenburg. But for now it's time for brief, yet well-earned celebrations, in the Canadian camp.
Full results and more photos HERE.