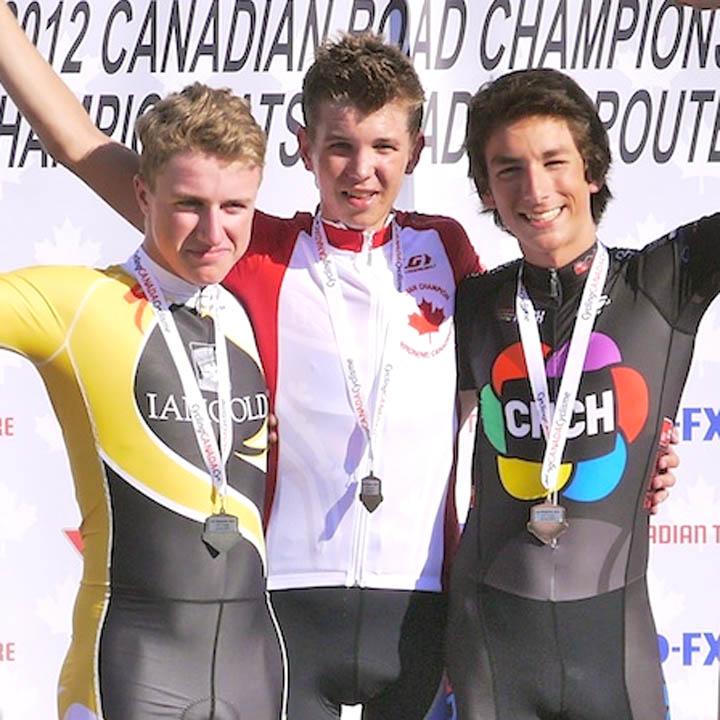 June 28, 2012 (Lac Mégantic, QC) – New Canadian champions were crowned today in Lac Mégantic as the 2012 COLD-FX Canadian Road Championships continued for the juniors, masters and para-cyclists.
In the junior women, the surprising Saskia Kowalchuk (Team CHCH) won top honors in the time trials, stopping the clock at 22:17 after 15 kilometers of racing. The young cyclist from Ontario was pleased with her efforts: "Being Canadian champion and to wear the Maple Leaf jersey is very surreal right now. It was quite unexpected. I missed my high school graduation to be here, so I had to compensate and do well here! I am quite happy to go home with the jersey."
"The course is relatively flat, which benefited me because I am strong in these sections. I had therefore to make time during the flat sections. My coach Rick Lee and I worked a lot on motor pacing, and on the Computrainer to improve my wattage."
"I must thank my coach Rick Lee, the team president Lloyd Fairbairn who lent me the bicycle on which I rode today, my family and friends and the entire team."
In men's juniors, it's Nigel Ellsay of Cycling BC team that climbed on the top step of the podium. Ellsay, who last year won the silver medal at these Championships, crossed the finish line after 30km race in a time of 40: 30.88.
"I have been working for the last six months. I am really happy to get it over with," said Ellsay, who spent some valuable time in France earlier this spring. "I headed over to France in the March, and spent 3.5 months in a French club team. Midway through, a rider dropped out and I had the privilege to go race at a Nations Cup in Germany with the national team. I gained valuable experience and finished 13th in the General Classification. It's a good spring!"
"It's a pure time trial course. I have been working really hard the last couple of months. It feels great to win the Maple Leaf Jersey. It's a big relief, since I have been working towards this objective for the last two months. Last year, I was second and I really wanted it. This year I finally got it."
Young Marc-Antoine Soucy (Team CC I am Gold) finished in second place with a time of 40:49, while Adam Jamieson (Team CHCH) finished third, just one second off the second place.
In para-cycling, Arnold Boldt, won the race in the C category. Boldt, a veteran Paralympian who had an outstanding athletic career, proved he is still a force in the sport.
The leader of the World Cup tour and defending World Champion in T1 Marie-Eve Croteau has in turn been the fastest among the tricycles, finishing ahead of rookie Dominique Mainguy, second, and the World Champion T2 Shelley Gautier, third.
Mark Beggs won top honors in the handcycle category. Beggs posted the fastest time, followed by Charles Moreau, who was the surprise of the day, and Mark Ledo.
In tandem, Daniel Chalifour along with pilot Alexandre Cloutier, Canada,s top ranked men's podium, were the fastest ahead of World Champion tandem formed by Robbi Weldon and pilot Lyne Bessette. Brian Cowie and Ed Veal finished third.
The 2012 COLD-FX Canadian Road Championships presented by Canadian Tire continue tomorrow and Saturday with the road races, and end on Sunday with the criterium races.
Junior Women's full results HERE
Junior Men's full results HERE.
Full Masters full results HERE.
Para full results HERE.
Results (brief)
Femmes Junior
1. KOWALCHUK, Saskia (ON) Team CHCH 22:17
2. PEPIN, Roxanne (QC) Equipe du Quebec +0:58
3. GIBSON, Kinley (AB) Team Alberta +1:12
Hommes Junior
1. Nigel ELLSAY (BC) Cycling BC 40:30.88
2. Marc-Antoine SOUCY (QC) Team CC I am Gold +0:19
3. Adam JAMIESON (ON) Team CHCH +0:20
Maîtres Hommes 30-39
1. MCNEIL, Chris (BC) Soul Sportif 19:08
2. PICARD, Dominic (QC) Quilicot-Rackultra +0:35
3. DESCHAMPS, Francois-Michel (QC) Trek – Bontrager +0:44
Maîtres Hommes 40-49
1. GAZSI, David (QC) Team IFG Cyclelogik Endurosport 19:14
2. ALBERT, David (QC) Powerwatts-FITTIME +0:38
3. NASH, Michael (ON Ride with Rendall +0:52
Maîtres Hommes 50-59
1. ADAMS, Sylvan (QC) Powerwatts-FITTIME +20:26
2. LE BEAU, Stéphane (QC) Suarez-ACQ +0:03
3. LAMARCHE, André (QC) Trek – Bontrager +0:14
Maîtres Hommes 60+
1. CLUETT, Gary (ON) ZM Cycle & Fitness 22:56
2. CLARKE, Gordon (ON) Bikesport +0:06
3. DESROCHES, Claudel (QC) FADOQ +0:16
Maîtres Femmes 30-39
1. LEGRAND, Pascale (QC) Trek – Bontrager 22:52
2. BOISSELLE, Caroline (QC) +1:02
3. MCKEE, Shelly (ON) NovofitCompass 360 Racing +1:46
Maîtres Femmes 40+
1. HAYES, Judith (QC) Medique p/b Silbet Investments 23:38
2. BROWN, Debra (QC) Medique p/b Silbet Investments +0:05
3. MARCEAU, Julie (ON) Lapdogs +0:43
Paracyclisme Vélo à Main
1. BEGGS, Mark QC Equipe du Québec 25:15
2. MOREAU, Charles QC Equipe du Québec 25:28
3. LEDO, Mark ON Team Ontario/Pedal Performance 23:43
Paracyclisme Tandem
1. CHALIFOUR, Daniel / Alexandre CLOUTIER (QC) Indépendant 37:59
2. WELDON, Robbi (ON) / Lyne BESSETTE (QC) Indépendant 44:18
3. COWIE, Brian BC (BC) Blind Sports / Ed VEAL (ON) Real Deal Racing 40:00
Paracyclisme Cycle
1. BOLDT, Arnold (SK) TeamSask 23:43
2. MOLNAR, Marie-Claude (QC) Équipe du Québec 24:51
3. MILLEY, Jaye (AB) Bicisport 24:43
Paracyclisme Tricycle
1. CROTEAU, Marie-Eve (QC) Équipe du Québec 16:52
2. MAINGUY, Dominique (QC) Equipe du Québec 20:07
3. GAUTIER, Shelley (ON) Team Ontario 22:04