June 21, 2012 (Lac-Megantic, QC) –  Svein Tuft (Orica GreenEdge) is the undisputed king of the individual time trial in Canada. He gave a cycling lesson to the other participants in the race by posting a time of 47:26 on the 39km course, earning his fifth consecutive Canadian and eighth overall title.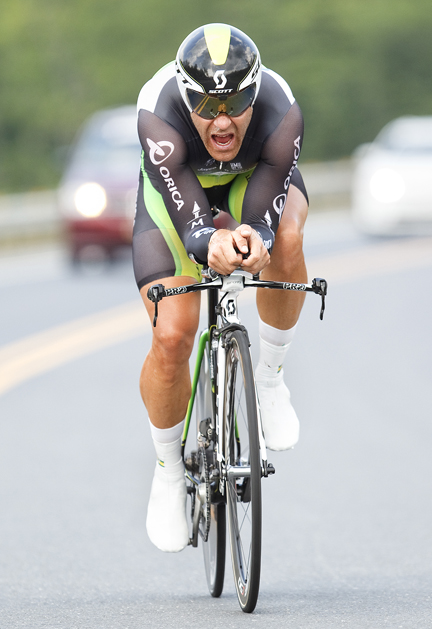 Earlier in the day, Hughes also showed dominance with her great first place after travelling the 30 kilometers course. She has also been confirmed today on the Canadian Olympic team, along with Joelle Numainville and Denise Ramsden. For the men, Ryder Hesjedal, who participate at the Tour de France, will be the Canadian representative in London.
Christian Meier (Orica GreenEdge) took second place in the Elite men's race at 2:08 behind the winning time, while Hugo Houle (SpiderTech) finished third and was also ranked as the top U23 rider.
"I have been putting a lot of emphasis in the time trial," said Tuft. "I recovered well from the Giro d'Italia, and today it is the dedication of all of the efforts that the technical team has made. It was perfect today. I'm really happy. I just did 12 minutes of warming up in the heat. I was super hydrated over the last two days. Also, I understand the decision of Cycling Canada at choosing Ryder (Hesjedal). The problem is just that Canada has a single spot at the Olympics."
The time posted by Hugo Houle in the Time Trial was also excellent. "It was very difficult because of the heat. When Svein caught me, it was a big blow to my morale. I knew I was going very well. That's why in the last lap, I put my head down and gave everything I could. It has been 30 minutes since the race is over, and I'm still tired."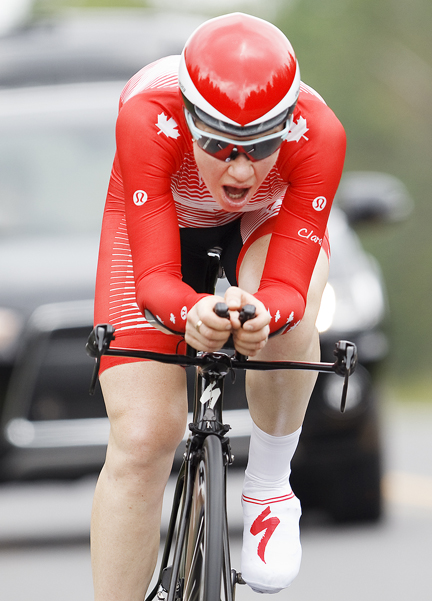 Clara Hughes will be making her sixth appearance at the Olympics, three of them being Summer Games. "I am very pleased to have been chosen. I am really motivated and we will have a great team in London. Today it was important for me to win here. I love wearing the Canadian championship jersey."
For Joëlle Numainville, fourth today, this is her first time as an Olympic team member which makes her very happy. "I am so happy to be riding with Clara, she is such a good athlete. It will help a lot with her experience. I will be at the service of the team, and the important thing is that someone from the team step on the podium, nothing less."
Men's results HERE.
Women's results HERE.
Men's ITT Photos

Women's ITT Photos