June 15, 2012 (St. Félicien, QC) The top Mountain Bikers from all age categories have arrived in St-Félicien, QC, and are all ready to compete in the top domestic Mountain Bike event of the 2012 Cycling Canada calendar, the 2012 Canadian Mountain Bike Championships in St-Félicien, QC.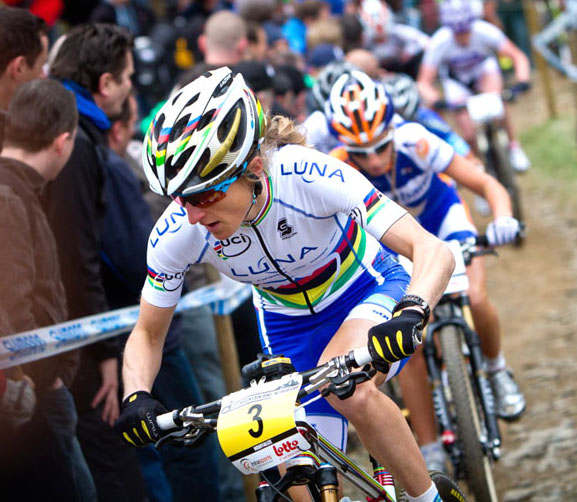 The Elite races will feature Canada's best Mountain bikers, such as canada's top-ranked
Catharine Pendrel
(Kamloops, BC/Team Luna Pro),
Emily Batty
(Brooklin, ON/Subaru-Trek) and
Marie-Hélène Prémont
(Chateau Richer, QC/Rocky Mountain/Procycle) in the women's elite race.
Canada is currently ranked as the top-program in the world in mountain bike, thanks to the great performance by these three riders.
Pendrel, the reigning UCI World Champion, will be defending the title she won the previous three years. She'll be pressed by both Marie-Hélène Prémont and Emily Batty.
Defending Champion Max Plaxton (Victoria, BC/Specialized Racing USA) will be racing with the intent to defend his 2011 men's title, but Geoff Kabush (Courtenay, BC/Scott-3RoxRacing) will certainly put a tough fight and try to regain the mountain supremacy he created by winning seven straight elite titles at Mountain Bike Canadian championships. Derek Zandstra (Trenton, ON/Scott-3RoxRacing) has also been riding really consistently this season, and could be a threat for the top spot.
Both cross-country Canada Cup champions, Sandra Walter (Xprezo-Borsao) and Raphael Gagné (Rocky Mountain/Procycle), will be in attendance, pursuing their strong domestic seasons. Both riders won two of the three Canada Cup races to take the titles.
In addition to the featured Canadian Championships race, the event will host National Challenges on Sunday, recreational events held to promote the sport to young racers, from the Minime to Masters categories.
Racing starts on Saturday, with the main Elite, U23, Junior and Cadet races, for both the men and women. On Sunday, the Canadian Championships races will be held for the Master racers, as well as the Elite Team Relay and the National Challenges.
The 2012 Canadian Mountain Bike Championships are held in St-Félicien, and are hosted and organized by the Vélo2Max cycling club, with Martin Demers as the president of the local organizing committee. The club organized the 2009 edition of these Mountain Bike Canadian Championships, and in 2007 hosted an event of the UCI World Cup.