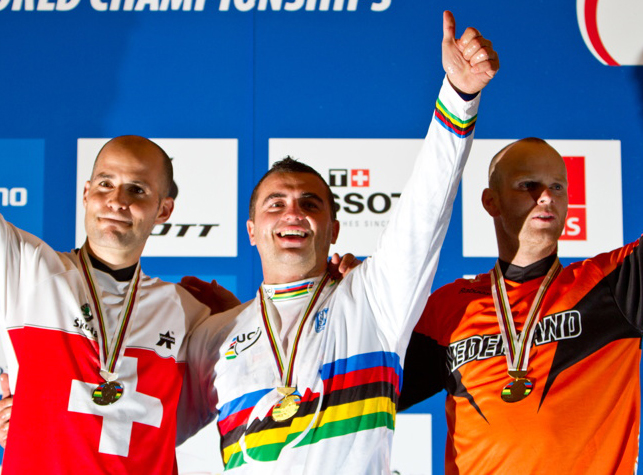 September 02, 2011 (Champery, Switzerland) – In what may turn out to be the last 4X World Championships ever, Anneke Beerten (NED) finally won the title that has eluded her for 11 years. For the men, it was Michal Prokop (CZE) winning a wild final that saw multiple crashes, mechanicals and bad luck.
Beerten managed to fight her way into the lead and stay there in the final heat to cruised untouched to the finish line, after a close call in the rock garden mid track. "It must have been the chocolate! I can't believe I finally did it. I had the gate of my life and just managed to pull it off. I almost went down in the rock section when I tried to go through with no brakes, which probably wasn't a great idea, but it all worked out."
Beerten beat out Fionn Griffiths (GBR), Celine Gros (FRA) and Mellissa Buhl (USA) in the final heat.
The track in Champery is a good one. A tight first corner led to a long rock garden with four lines, including two fast berms, a rock garden, a set of hucks and a final stepdown into a couple of built up gravel corners to the finish. Both Beerten and Prokop managed to ride the rock line to perfection all night. Held under the lights, and in deep woods, the track was lined with thousands of vocal fans from start to finish.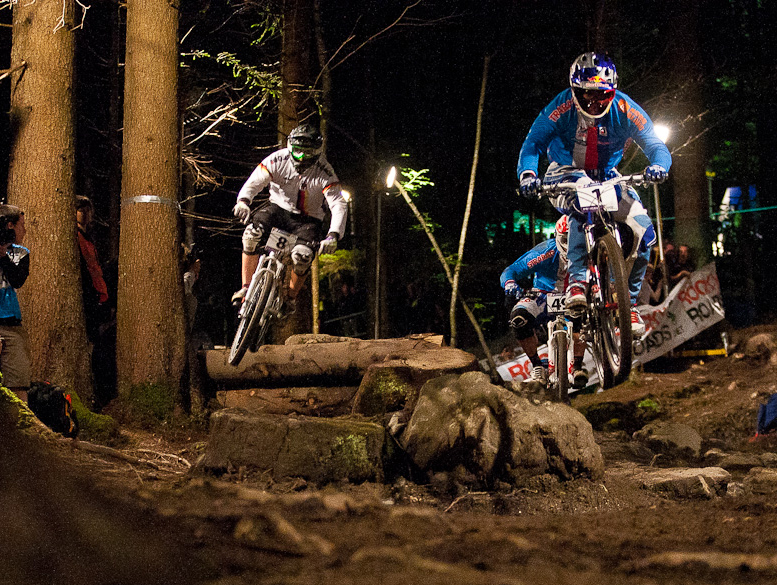 In the men's final, Prokop was joined by a who's who of 4X including Jared Graves, Roger Rinderknecht and Joost Wichman. Graves got his worst start of the night in the finals, but managed to sneak into the lead when the three leaders touched in the first corner and all three went down. Only seconds later, Graves would be victim to his 3rd front flat of the season, and he watched as Prokop went sprinting past to take the rainbow jersey.
Harold Woolnough of Canada went out in the 1/8 finals to finish 25th overall.Results
Results
Elite Women
Big Final
1. Anneke Beerten (Netherlands)
2. Fionn Griffiths (Great Britain)
3. Céline Gros (France)
4. Melissa Buhl (United States of America)
Small Final
5. Jana Horakova (Czech Republic)
6. Neven Steinmetz (United States of America)
7. Tereza Votavova (Czech Republic)
8. Steffi Marth (Germany)
1/4 Finals
9. Lucia Oetjen (Switzerland)
10. Joanna Petterson (United States of America)
11. Helene Valerie Fruhwirth (Austria)
12. Dana Elena Schweika (Germany)
Elite Men
Big Final
1. Michal Prokop (Czech Republic)
2. Roger Rinderknecht (Switzerland)
3. Joost Wichman (Netherlands)
4. Jared Graves (Australia)
Small Final
5. Johannes Fischbach (Germany)
6. Quentin Derbier (France)
7. Guido Tschugg (Germany)
8. Lukas Mechura (Czech Republic)
1/4 Finals
9. Graeme Mudd (Australia)
10. Felix Beckeman (Sweden)
11. Adrian Weiss (Switzerland)
12. Marek Pesko (Slovakia)
13. Kamil Tatarkovic (Czech Republic)
14. Michal Marosi (Czech Republic)
15. Hannes Slavik (Austria)
16. Tomas Slovak (Czech Republic)
1/8th Finals
17. Scott Beaumont (Great Britain)
18. Daniel Prijkel (Netherlands)
19. Lucas Rafael Alvarez De Lara (Spain)
20. Pascal Seydoux (Switzerland)
21. Petr Muhlhans (Czech Republic)
22. Filip Polc (Slovakia)
23. Peter Prajczer (Hungary)
24. Klaus Beige (Germany)
25. Harold Woolnough (Canada)   
26. Petrik Brückner (Germany)
27. Jakub Riha (Czech Republic)
28. Aiko Göhler (Germany)
29. Daniel Franks (New Zealand)
30. Richard Levinson (Australia)
31. Piotr Paradowski (Poland)
32. Michael Mechura (Czech Republic)
1/16 Finals
33. Lear Miller (United States of America)
34. Blake Carney (United States of America)
35. Werner Muther (Switzerland)
36. Kristjan Medvescek (Slovenia)
37. Robert Kulesza (Poland)
38. Andrej Bratina (Slovenia)
39. Benedikt Last (Germany)
40. Jakob Malik (Slovenia)
41. Benjamin Kistner (Switzerland)
42. Tamas Tarr (Hungary)
43. Norbert Papp (Hungary)
44. Urban Rotnik (Slovenia)
45. Scott Roberts (Great Britain)
46. William Evans (Great Britain)
47. Hakan Yildirim (Turkey)
DNS David Graf (Switzerland)
DNS Massimo Kienzler (Germany)
DNS Matija Stupar (Slovenia)