September 03, 2011 (Champery, Switzerland) – The Elite Men's race is under way with 111 men on the start line with lots of contenders for the rainbow jersey as José Antonio Hermida Ramos (Spain) is the defending champ. All eyes will be on Jaroslav Kulhavy (Czech Repubic), Nino Schurter (Switzerland) and Julien Absalon (France). Canada has six riders lead by Geoff Kabush with Derek Zandstra, new reigning Canadian MTB champ Max Plaxton, Matt Hadley, Adam Morka, and Andrew Watson – the men will complete a 3km loop and 7 full 4.8km laps for a total of 36.6km.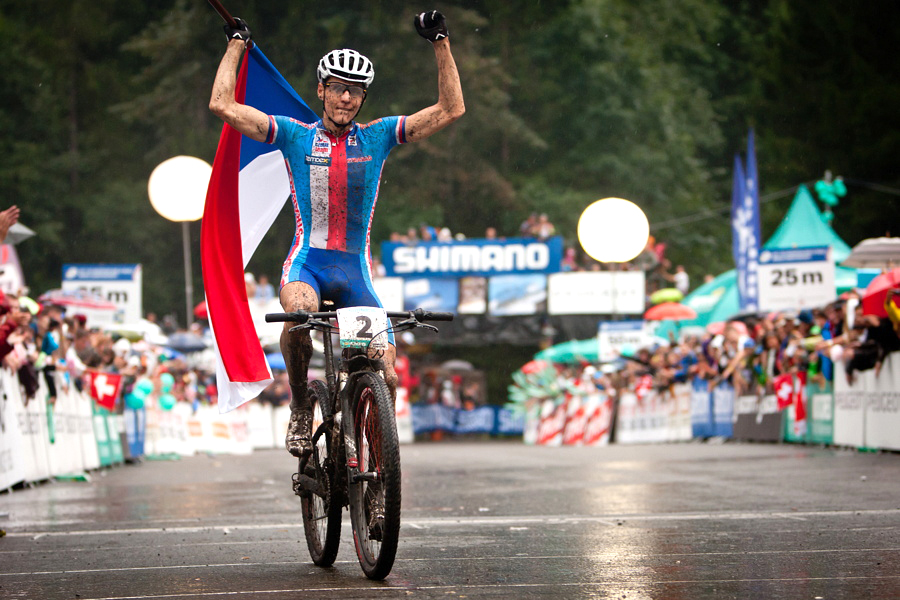 Start Loop
It's Schurter and Abaslon and more Swiss riders at the front… Kulhavy is there as well – it's a clean start.
The pace is fast there's a bottle neck at the first hairpin…
Lap 1
It's Kulhavy coming thru at 6:19 with Schurter on his wheel… then it's Florian Vogel (Sui) in 3rd followed by Abaslon on 4th with Hermida in 5th and Maxime Marotte (France) is in 6th.
Abaslon crashes hard… but he's not hurt and is back in the bike.
Schurter is leading up the climb and is gapping Kulhavy a bit – there are four chasers behind.
Plaxton is in 20th… Kabush is 27th.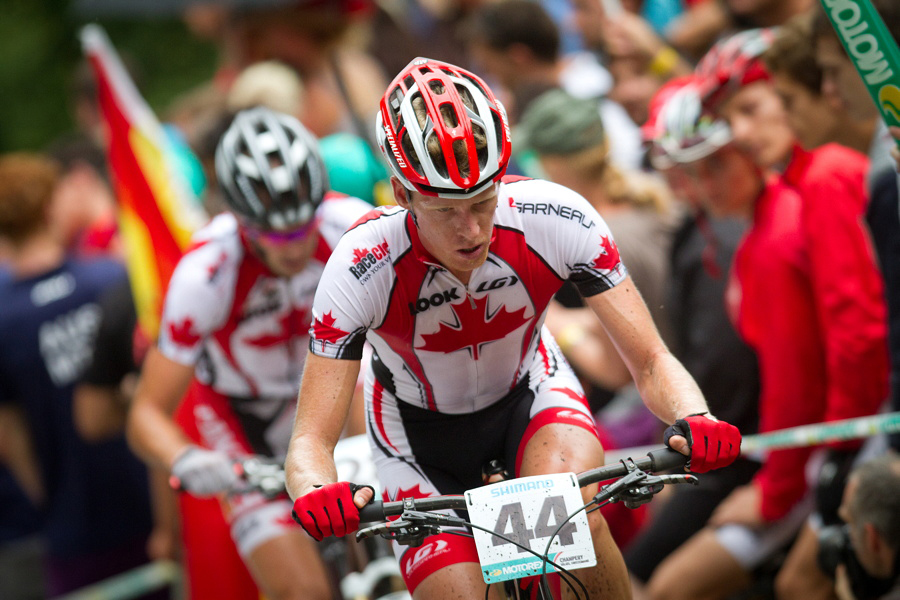 Lap 2
It's Kulhavy and Schurter  coming thru in 19:58… Vogel is 3rd at 11s with Absalon in 4th on his wheel with Marotte in 5th and Hermida is in 6th.
Schurter is now out front with Kulhavy on his wheel – the four chasers are gaining on them – then a group of 6 are behind them.
On home turf Schurter is looking strong and holds the lead… the four chasers lead by Vogel are not letting up.
In 7th it's Burry Stander (RSA) followed by Manuel Fumic (Ger) with Catriel Andres Soto (Argentina) there as well as Lukas Flückiger (Sui) dangles behind them.
The six leaders are together now… two Swiss, two French, one Czech and one Spanish rider.
Up the climb the Swiss are up front… around the hairpin turn Schurter is in front and Kulhavy's pedal comes out and gives the Swiss rider a chance to get a gap.
Lap 3
Schurter comes thru in 33:42 with Kulhavy on his wheel then it's Vogel in third, Absalon 4th, Marotte in 5th and defending champ Hermida in 6th all together… Stander is 7th at 50s.
Vogel  and Schurter jump to the front with Kulhavy in 3rd and now Hermida is 4th.
Stander goes down – he's followed by Fumic in 8th and Flückiger in 9th.
Plaxton and Kabush are in the 20s…
It's starting to rain… this could change tactics and force tire changes.
Marotte is dangling behind as Kulhavy moves to the front of the 6 leaders… Schurter attacks on the climb as Hermida moves into third with Absalon in 4th as Vogel and Marotte are getting dropped.
Schurter,  Hermida and Absalon are on 26″ hartails while Kulhavy is on a 29er.
Christoph Sauser (Sui) is moving up with Mathias Flückiger (Sui) and Stéphane Tempier (Fra) is there as well with Soto.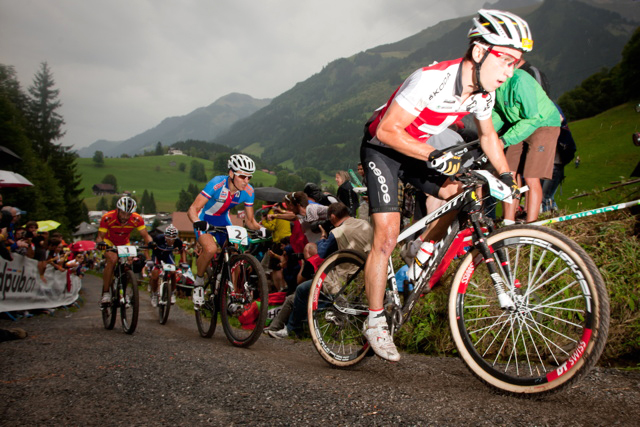 Lap 4
Kulhavy crosses the line in 47:38 with Schurter beside him… then it's Hermida. Vogel is 4th at 19s and Marotte is in 5th.
The rain is coming down strong making the course very slippery.
Stander suffered a chain mechanical before the lap finish and has been passed by Fumic…
The three leaders are dropping Abaslon… Schurter is leading with Kulhavy in 2nd and Hermida in 3rd.
Marotte crashes hard but is back on the bike… Fumic slips out as well but recovers – he's holding on to 7th.
Kabush is 20th at 2:53 – Plaxton is 30th at 3:42 – Zandstra is 36th at 4:32 – Morka is 66th at 7:08 – Hadley is 72nd at 8:17 and Watson is behind.
Schurter has a gap and he's attacking on the downhill – the rain is pouring down.
Lap 5
Schurter comes thru to start the fifth lap in 1:01:35 with Kulhavy in second at 5s with Hermida at 8s… its a Absalon in 4th is at 18s.
Vogel is 5th at 1:28, Marotte is 6th, Fumic is 7th, Lukas Flückiger is 8th, Sauser is 9th and Soto is 10th.
Schurter and Kulhavy are pulling away from Hermida…
Kabush has moved up to 17th – he loves rainy conditions… Plaxton is 27th.
Flückiger has moved up into 6th with Fumic in 7th as Marotte drops back into 8th.
Hermida has a tire problem – it's going flat – and has to stop for a wheel change… up the climb it's Schurter again out front with Kulhavy just behind. Abaslon takes over 3rd.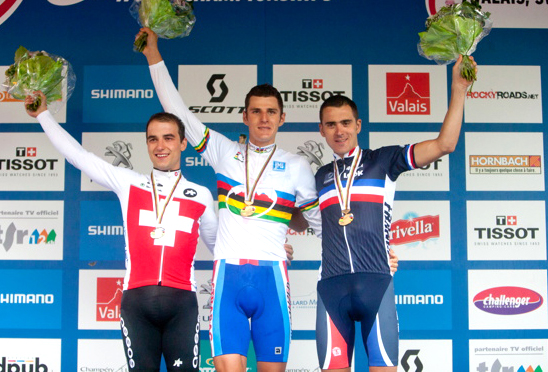 Lap 6
On the penultimate lap… it's Schurter and Kulhavy in at 1:15:56… then's it's Abasalon at 25s in 3rd – can he close the gap and join the leaders.
Hermida is 4th at 45s trying to regain the ground he lost…Vogel is 5th at 2:25 and Flückiger another Swiss is 6th.
Kulhavy attacks on the climb and takes over the lead… he's got an 8s lead on Schurter and knows he's got lead and is trying to put pressure on Schurter.
Kabush moves up to 16th at 4:29 – Plaxton is 27th and Zandstra is 29th…
Kulhavy on a 29er is looking smooth and is gaining ground on Schurter – thru the feed zone and up the climb he's in charge. Schurter is not able to respond…
Lap 7 FINAL
It's Kulhavy starting the final lap with a decisive lead – 1:30:01 – over Schurter at 24s. Then it's Abasalon at 1 minute and then Hermida the defending champ at 1:42.
Kulhavy is looking smooth and strong and extends his lead… Schurter is wary of Abasalon behind.
Vogel is 5th – Flückiger is 6th – Fumic is 7th – Todd Wells (USA) has moved into 8th – Sauser is 9th – Jan Skarnitzl (Cze) is 10th…
Canada's Kabush is now 11th and is closing on Skarnitzl… Plaxton is 23rd and Zandstra is 28th.
The rain has not let up and Kulhavy is making time on everyone – he's saved the best for last – now he's on the final climb and then it's the downhill to the finish.
Results
1.  Jaroslav Kulhavy (Czech Republic)  1:44:30
2. Nino Schurter (Switzerland)  0:47
3. Julien Absalon (France)  1:26
4. José Antonio Hermida Ramos (Spain)  2:09
5. Lukas Flückiger (Switzerland)  4:29
6. Florian Vogel (Switzerland)  4:56
7. Todd Wells (United States of America)  4:57
8. Christoph Sauser (Switzerland)  5:16
9. Manuel Fumic (Germany)  5:22
10. Geoff Kabush (Canada)  5:27
11. Jan Skarnitzl (Czech Republic)  5:50
12. Jeremy Horgan-Kobelski (United States of America)  6:21
13. Mathias Flückiger (Switzerland)  6:44
14. Inaki Lejarreta Errasti (Spain)  6:52
15. Kevin Van Hoovels (Belgium)  7:02
16. Maxime Marotte (France)  7:21
17. Ivan Alvarez Gutierrez (Spain)  7:46
18. Emil Lindgren (Sweden)  7:52
19. Fabian Giger (Switzerland)  8:01
20. Marco Aurelio Fontana (Italy)
21. Rudi Van Houts (Netherlands)
22. Max Plaxton (Canada)  8:23
23. Kohei Yamamoto (Japan)  8:24
24. Milan Spesny (Czech Republic)  8:31
25. Martin Gujan (Switzerland)  8:43
26. Derek Zandstra (Canada)  8:45
27. Jochen Kass (Germany)  9:06
28. Carlos Coloma Nicolas (Spain)  9:22
29. Karl Markt (Austria)  0:10:20
30. Stéphane Tempier (France)  0:10:30
31. Moritz Milatz (Germany)  0:10:40
32. Periklis Ilias (Greece)  0:10:43
33. Jiri Friedl (Czech Republic)
34. Adam Craig (United States of America)  0:11:18
35. Samuel Schultz (United States of America)  0:11:38
36. Catriel Andres Soto (Argentina)  0:14:11
37. Chris Jongewaard (Australia)   -1 lap
38. Marek Galinski (Poland)  -1 lap
39. Umberto Corti (Italy)  -1 lap
40. Sid Taberlay (Australia)  -1 lap
41. Rotem Ishai (Israel)  -1 lap
42. Anton Gogolev (Russian Federation)  -1 lap
43. Jeremiah Bishop (United States of America)  -1 lap
44. Michal Lami (Slovakia)  -1 lap
45. Andrea Tiberi (Italy)  -1 lap
46. Martin Loo (Estonia)  -1 lap
47. Robert Mennen (Germany)  -1 lap
48. Rubens Valeriano (Brazil)  -1 lap
49. Uwe Hochenwarter (Austria)  -1 lap
50. Ole Christian Fagerli (Norway)  -1 lap
51. David Joao Serralheiro Rosa (Portugal)  -1 lap
52. Carl Jones (New Zealand)  -1 lap
53. Andras Parti (Hungary)  -1 lap
54. Alban Lakata (Austria)  -1 lap
55. Daniel Mcconnell (Australia)  -1 lap
56. Adam Morka (Canada)  -1 lap
57. Hannes Metzler (Austria)  -1 lap
58. Michele Casagrande (Italy)  -1 lap
59. Sergji Rysenko (Ukraine)  -1 lap
60. Evgeniy Pechenin (Russian Federation)   -2 laps
61. Oleksandr Gerashchenko (Ukraine)  -2 laps
62. Tiago Jorge Oliveira Ferreira (Portugal)  -2 laps
63. Hector Leonardo Paez Leon (Colombia)  -2 laps
64. Eddie Andres Rendon (Colombia)  -2 laps
65. Robert Gehbauer (Austria)  -2 laps
66. Spencer Paxson (United States of America)  -2 laps
67. Matous Ulman (Czech Republic)  -2 laps
68. Michael Broderick (United States of America)  -2 laps
69. Ken Onodera (Japan)  -2 laps
70. Wolfram Kurschat (Germany)  -2 laps
71. Matthew Hadley (Canada)   -3 laps
72. Tony Longo (Italy)  -3 laps
73. Mario Alberto Rojas Rojas (Colombia)  -3 laps
74. Marc Bassingthwaighte (Namibia)  -3 laps
75. Luciano Caraccioli (Argentina)  -3 laps
76. Edivando Cruz De Souza (Brazil)  -3 laps
77. Kazuhiro Yamamoto (Japan)  -3 laps
78. Benjamin Wittrup Justesen (Denmark)  -3 laps
79. Seiya Hirano (Japan)  -3 laps
80. Lachlan Norris (Australia)  -3 laps
81. Klaus Nielsen (Denmark)  -3 laps
82. Cristobal Silva Ibaceta (Chile)  -3 laps
83. Dani Simcic (Croatia)
84. Paolo Cesar Montoya Cantillo (Costa Rica)   -4 laps
85. Chun Hing Chan (Hong Kong, China)  -4 laps
86. Philip Buys (South Africa)  -4 laps
87. Weisong Tong (People's Republic of China)  -4 laps
88. Claus Plaut Guzman (Chile)  -4 laps
89. Emmanuel Valencia Guadarrama (Mexico)  -4 laps
90. Andrew Watson (Canada)  -4 laps
91. Sang Hoon Na (Korea)  -4 laps
DNF  Sergio Mantecon Gutierrez (Spain)
DNF  Liam Killeen (Great Britain)
DNF  Burry Stander (South Africa)
DNF  Ruben Ruzafa Cueto (Spain)
DNF  Dario Alejandro Gasco (Argentina)
DNF  Anton Sintsov (Russian Federation)
DNF  Javier Eduardo Puschel (Chile)
DNF  Alexey Medvedev (Russian Federation)
DNF  Christoph Soukup (Austria)
DNF  Georgios Pattes-Toumanis (Greece)
DNF  Magnus Darvell (Sweden)
DNF  Hakan Yildirim (Turkey)
DNS  Jukka Vastaranta (Finland)
DNS  Szilard Buruczki (Hungary)
DNS  Bojan Djurdjic (Serbia)
DNS  Gonzalo Eduardo Aravena Garcia (Chile)
DNS  Ruben Parra (Venezuela)
DNS  Antonio Guzman (Venezuela)
DNS  Adrian Brzozka (Poland)
DNS  Dmitry Medvedev (Russian Federation)