August 20, 2011 (Val di Sole, Italy) – The final round of the Elite Women's 2011 UCI MTB World Cup is soon underway in Val di Sole, Italy, with 71 riders on the start line under sunny skies and warm conditions. Canada's Catharine Pendrel (Luna) is in a tight battle with World Cup leader Julie Bresset (Fra) BH-Suntour-Peisey Vallandry for the overall – 140 points separate them (if Bresset wins she'll be the first U23 rider to win the overall). Marie-Helene Premont (Can) Maxxis-Rocky Mountain and Irina Kalentieva (Rus) Topeak Ergon are also neck and neck for third overall only ten points apart. The women will complete a 1.2km start loop and 5 laps of a 4.5km circuit for 23.7km. Emily Batty (Can) Subaru-Trek, Amanda Sin (Can) 3 Rox Racing, and Catherine Vipond (Can) Team Canada are also on the line for Canada.
Start Loop
Eva Lechner (Ita) Colnago Farbe Sudtirol  jumps to the front and the pack is right behind with Bresset in 8th and Pendrel in 10th… Premont is up there and Batty is in about 11th.
Lap 1
Lechner comes thru in 2:22…Cécile Ravanel (Fra) GT Skoda Chamonix is in second as Pendrel moves up into 4th with Bresset there as well.
Pendrel attacks on the climb and takes over the lead as Bresset moves up to mark her in second…Gunn-Rita Dahle Flesjaa (Nor) Multivan Merida Biking Team is in third Kalentieva is now in fourth and Premont is in 5th.
Pendrel has opened up a gap and is now on her own out front with about a 30s-lead on Bresset.
Lene Byberg (Nor) Specialized Racing is a non-starter today after having her bike stolen yesterday in front of a supermarket… Sabine Spitz (Ger) Central Haibike Pro Team is also not racing today.
Pendrel has extended her lead as lap one is almost completed – Bresset remains in second with  Dahle Flesjaa in third.
Lap 2
Pendrel starts her second lap with a time of 17:56 meaning a lap time of 15:34… Bresset is second at 22s with Dahle Flesjaa at 26s.
Premont attacked as the lap ended and is now in 4th at 41s. Heather Irmiger (USA) Subaru-Trek  is in 6th at 51s with Annie Last (Gbr) British National Team in 7th – Kalentieva is in 8th…
Up the climb a group of three are chasing down Premont – Katerina Nash (Cze) Luna Pro Team has taken over 5th followed by Maja Wloszczowska (Pol) in 6th with Kalentieva in 7th.
Batty has fallen back into 2oth – she recently got engaged to long time boyfriend Adam Morka – congrats to both riders.
Dahle Flesjaa attacks and takes over second place… behind Wloszczowska moves up and takes over 4th from Premont who drops back into 7th behind Nash in 5th and Kalentieva in 6th.
Out of the forest it's Pendrel leading with Dahle Flesjaa now gapping Bresset.
Lap 3
Pendrel completes her second lap in 16:16 with a total time of 34:12…Dahle Flesjaa comes thru in second at 40s with Bresset in third at 51s. Wloszczowska, the reigning world champ, is alone in 4th at 1:15.
Bresset is comfortable in 3rd place knowing she'll have the overall locked up – she has to finish 7th or better to keep the white leader's jersey and make history as the first U23 rider to win the coveted title.
Lechner has moved up now and is in 5th… Premont rebounds and is now 6th with Kalentieva in 7th.
Wloszczowska is trying to run down Bresset and is looking strong… the Polish star passes Bresset.
Lap 4
The time is 50:35 for Pendrel as she starts the penultimate lap… her lap time is slightly slower at 16:23. She's looking comfortable on her way to claiming her 7th WCup victory.
Dahle Flesjaa is solidly in second at 1:05 – the Norwegian star has 26 WCup wins to her credit.
Bresset has caught Wloszczowska as the two crossed the line together in 1:27.  Lechner is alone in 5th, Kalentieva is 6th, Nash is 7th, Premont is 8th – on a 29er again – Lea Davison (USA) Specialized Racing is 9th and Irminger is 10th.
Wloszczowska regains the 3rd but Bresset is on her wheel…they're gaining on Dahle Flesjaa.
Wloszczowska finally drops Bresset and is now marking Dahle Flesjaa – she's closing down the gap. Lechner is trying to bridge to Bresset.
The Italian champ Lechner suffers a mechanical and loses about 20-30s… good news for Bresset in 4th which is her worst placing all season.
Wloszczowska is on a tear and passes Dahle Flesjaa… they're gaining on Pendrel – now about 30s behind.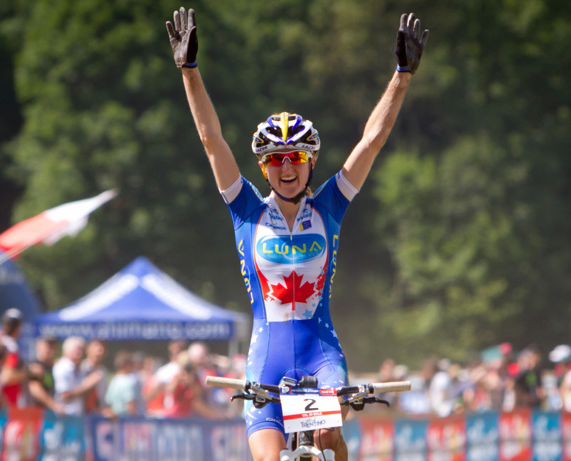 Lap 5 Final
The gap is only 17s to second as Pendrel comes thru in 1:08:29… Dahle Flesjaa regains 2nd place but Wloszczowska is on her wheel at 18s – Bresset is at 32s…
Premont is 1oth and Batty has moved up into the mid teens now 14th – Vipond is in the low 30s – Sin is 44th.
Pendrel sees the danger and ramps it up and the gap widens for her…
Up the climb Wloszczowska takes over second but Dahle Flesjaa is not far behind – she'll plan to make up any deficit on the descents… Lechner is in 5th.
Wloszczowska drops Dahle Flesjaa and is now focused Pendrel on the descent…can she catch her?
Pendrel is not letting up and looks strong but Wloszczowska is not giving up.
Results
1. Catharine Pendrel (Can) Luna Pro Team 1:25:07 
2. Maja Wloszczowska (Pol) CCC Polkowice 0:29
3. Gunn-Rita Dahle Flesjaa (Nor) Multivan Merida Biking Team 0:42
4. Julie Bresset (Fra) BH-Suntour-Peisey Vallandry 1:15
5. Eva Lechner (Ita) Colnago Farbe Sudtirol 1:51
6. Lea Davison (USA) Specialized Racing 2:14
7. Katerina Nash (Cze) Luna Pro Team 2:29
8. Heather Irmiger (USA) Subaru-Trek 2:37
9. Irina Kalentieva (Rus) Topeak Ergon Racing Team 2:59
10. Annie Last (Gbr) British National Team 3:13
11. Marie-Helene Premont (Can) Team Maxxis-Rocky Mountain 3:14
12. Emily Batty (Can) Subaru-Trek 3:31   
13. Katherine Compton (USA) Rabobank-Giant Off-Road Team 3:42
14. Tanja Zakelj (Slo) Orbea Geax 3:55
15. Nathalie Schneitter (Sui) Colnago Farbe Sudtirol 4:21
16. Georgia Gould (USA) Luna Pro Team 4:28
17. Esther Süss (Sui) Wheeler-iXS Pro Team 4:54
18. Blaza Klemencic (Slo) Felt Oetztal X-Bionic Team 4:58
19. Marielle Saner-Guinchard (Sui) Bikepark.ch Scott 5:02
20. Rosara Joseph (Nzl) Rabobank-Giant Off-Road Team 5:59
21. Sarah Koba (Sui) Giant Swiss Sr-Suntour 6:28
22. Sabrina Enaux (Fra) Felt Oetztal X-Bionic Team 7:05
23. Alexandra Engen (Swe) Rothaus Poison-Bikes 7:29
24. Mary McConneloug (USA) Kenda /Seven/NOTUBES 7:49
25. Janka Stevkova (Svk) 8:05
26. Karen Hanlen (Nzl) 8:17
27. Tereza Hurikova (Cze) Central Haibike Pro Team 8:37
28. Adelheid Morath (Ger) Felt Oetztal X-Bionic Team 9:06
29. Nina Homovec (Slo) Orbea Geax 9:27
30. Laura Metzler (Fra) BH-Suntour-Peisey Vallandry 9:50
31. Hanna Klein (Ger) Rothaus Poison-Bikes 10:22
32. Katrin Leumann (Sui) Ghost Factory Racing Team 10:39
33. Anne Terpstra (Ned) MPL Specialized MTB Team 10:49
34. Aleksandra Dawidowicz (Pol) CCC Polkowice 10:54
35. Cécile Ravanel (Fra) GT Skoda Chamonix 11:09
36. Laura Turpijn (Ned) Team Merida Combee 11:30
37. Katarzyna Solus-Miskowiez (Pol) 11:43
38. Anna Villar Argente (Esp) 11:58
39. Catherine Vipond (Can) Norco Factory Team 12:04   
40. Annika Langvad (Den) Team Easton Rockets 12:41
41. Laura Lorenza Morfin Macouzet (Mex) 13:08
42. Ann Berglund (Swe) 13:32
43. Amanda Sin (Can) 3 Rox Racing 13:57    
44. Rocio Gamonal Ferrera (Esp) 14:09
45. Pavla Havlikova (Cze) 14:22
46. Katherine O'Shea (Aus) Australia 14:44
47. Githa Michiels (Bel) Trek-Kmc Trade Team Vzw 14:51
48. Angela Carolina Parra Sierra (Col) ASPTT Definitive Gitane 15:25
49. Fabienne Niederberger (Sui) 15:27
50. Sandra Santanyes Murillo (Esp) 16:35
51. Judith Pollinger (Ita) Infotre-Bi and Esse-Leecougan 16:43
52. Krista Park (USA) -1 lap
53. Tatjana Dold (Ger) -1 lap
54. Melanie Späth (Ger) -1 lap
55. Lee Craigie (Gbr) -1 lap
56. Nicoletta De Jager (Ned) -1 lap
57. Lucie Vesela (Cze) GT Czech Team -1 lap
58. Magdalena Sadlecka (Pol) CCC Polkowice -1 lap
59. Elisabeth Brandau (Ger) Central Haibike Pro Team -1 lap
60. Daniela Veronesi (Ita) -2 laps
61. Mercedes Pacios Pujalo (Esp) -2 laps
62. Jodie Willett (Aus) -2 laps
63. Caitlin Elliott (Irl) -2 laps
64. Lenka Bulisova (Cze) -2 laps
65. Kiona Harbers (Ned) -2 laps
66. Pavlina Sulcova (Cze) Merida Biking Team -3 laps
DNF Elisabeth Osl (Aut) Ghost Factory Racing Team
DNF Anja Gradl (Ger) Ghost Factory Racing Team
DNF Michela Benzoni (Ita)
DNS Lene Byberg (Nor) Specialized Racing
DNS Corina Gantenbein (Sui) Fischer-BMC

Final Overall (brief)
1. Julie Bresset (Fra) BH-Suntour-Peisey Vallandry 1,460 pts
2. Catharine Pendrel (Can) Luna Pro Team 1,420
3. Irina Kalentieva (Rus) Topeak Ergon Racing Team 840
4. Marie-Helene Premont (Can) Team Maxxis-Rocky Mountain 820
5. Eva Lechner (Ita) Colnago Farbe Sudtirol 808
8. Emily Batty (Can) Subaru-Trek 611