August 20, 2011 (Val di Sole, Italy) – The Elite Men face hot and dry conditions in Val di Sole, Italy, for their final round of the 2011 UCI MTB World Cup. Jaroslav Kulhavy (Cze) Specialized Racing locked up the title with another convincing win last weekend in Nove Mesto on home turf – will he take it easy or go for another dominant win? Nino Schurter (Sui) Scott-Swisspower MTB-Racing has second place overall in the bag so the real battle is for third overall held by multi-decorated rider Julien Absalon (Fra) Orbea.
Among the 121 starters are Canada's Geoff Kabush (Team Maxxis-Rocky Mountain), Derek Zandstra (3 Rocks Racing), Canada MTB Cup winner Matt Hadley (Xprezo-Borsao), Adam Morka (Trek Canada) and Cameron Jette (3 Rox Racing) . The men will complete a 1.2km start loop and the 6 laps of a 4.5km circuit for a total of 28.2km.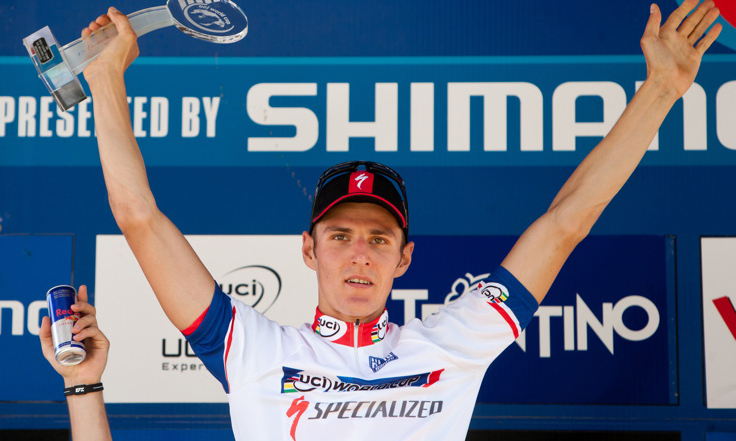 Start Loop
Samuel Schultz (USA) Subaru-Trek who had a great race in Nove Mesto takes the early lead… but the pack is right behind with Kulhavy is up there along with Schurter – a crash at the back of the pack at the start took down a number of riders.
Lap 1
Kulhavy crosses the line in 1:59 with Schurter on his wheel and Florian Vogel (Sui) Scott-Swisspower MTB-Racing in third… Absalon is about 10th, José Antonio Hermida Ramos (Esp) Multivan Merida Biking Team is 15th and Kabush is 27th.
Schurter takes over the lead as they head up the climb… Kulhavy is on his wheel with Vogel in 3rd and Sergio Mantecon Gutierrez (Esp) Wildwolf-Trek Racing in 4th – the chasers are further back.
Schurter and Kulhavy are off the front on their own as Vogel gaps Mantecon… now the four are together running away from the field as the lap will soon be over.
Lap 2
Kulhavy is in the lead and comes thru in 15:29 – for a lap time of 13:50 – then it's Schurter in second with Vogel 3rd and Mantecon in 4th.
Absalon is in 5th at 20s followed by Manuel Fumic (Ger) Cannondale Factory Racing in 6th, then it's Marco Aurelio Fontana (Ita) Cannondale Factory Racing in 7th, Todd Wells (USA) Specialized in 8th, Lukas Flückiger (Sui) Trek World Racing in 9th…Thomas Litscher (Sui) Felt Oetztal X – Bionic Team is 10th.
Vogel passes Kulhavy and he and Schurter pick up the pace and they've gapped the Czech rider. Behind it's Absalon and Fontana gaining on Mantecon who looks like the pace is not to his liking.
Kabush is in 37th – Zandstra is 78th…
Vogel and Schurter are gapping Kulhavy as Absalon passes Mantecon to take over 4th… behind Fontana takes over 5th… then it's Wells leading a group of about 8-10 chasers.
Vogel is now in the lead with Schurter right behind – but Kulhavy pushes it to join them.
Lap 3
The time is 29:21 as Vogel and Schurter cross the line but Kulhavy is on their wheels… then it's Absalon at 26s with Mantecon holding his own in 5th.
Fontana is at 42s then it's reigning world champ Hermida in 7th, Litscher in 8th followed by Wells on a 2-9er…
Vogel and Schurter are trying to drop Kulhavy but he's not easy prey… they're taking turns at the front.
Absalon has now dropped Mantecon who is in danger of being caught by the chasing pack of eight riders – they've caught Fontana up the climb with Wells behind him – up ahead they can see Mantecon…
Kabush has moved up to 34th at 2:33 behind the leaders… Zandstra has also moved up to 68th. Morka is in 76th at 4:55 and then it's Hadley in 94th at 6:11 – Jette is 112th.
Lap 4
Vogel crosses at 43:26 with Schurter and Kulhavy at 1s – Absalon is at 32s.
Kulhavy attacks and takes over the lead…Schurter doesn't like that and takes it back.
The chasers include Wells, Mantecon, Hermida, Fontana, Lukas Flückiger, Litscher, Mathias Flückiger, Christoph Sauser (Sui) Specialized Racing, Stéphane Tempier (Fra) TX Active Bianchi, Manuel Fumic (Ger) Cannondale Factory Racing and Maxime Marotte (Fra) BH-Suntour-Peisey Vallandry…
Burry Stander (RSA) Specialized Racing who had a tough start has moved up from 120th to 42nd.
Absalon is trying to bridge to the three leaders but he's on his own and has his work cut out…
The leaders are coming across lapped riders… Schurter won his U23 title on this course. If he can win here today it'll be his 4th WCup victory.
Lap 5
With two laps to go, the three leaders come thru in 57:44 – Absalon picks up some time in 4th now at 26s.
Kabush has lost a few places and sits 39th…but Zandstra has moved up to 51st – Morka is 66th.
Up the climb Vogel is suffering…Schurter and Kulhavy are gapping him. Kulhavy is the first rider to win a WCup on a 29er and he'd love to add another one to his resume with the MTB Worlds on the horizon – he has 5 WCup wins under his belt – a win today would make it six.
Kulhavy attacks as Vogel is dropped… he and Schurter are now racing ahead and will soon complete the fifth lap and then there'll be one to go. Absalon may catch Vogel…
Through the feedzone they all take on water and dowse themselves once again as the heat is taking its toll.
Lap 6 Final
Kulhavy and Schurter come thru to start the final lap in 1:11:42 – Vogel is at 28s and Abasalon is in 4th at 58s.
Schurter takes over the lead… Vogel is behind alone in 3rd. Hermida, Tempier, Lukas Flückiger and Sauser have broken away from the chase group and are battling for the final podium spot.
Kulhavy takes over the lead on the descent… and they head through the feed zone for the last time.
Kabush is up a couple of spots to 37th while Zandstra continues to make solid gains now in 42nd.
Kulhavy is trying to drop Schurter but the Swiss rider has more at stake.
It's going to be a sprint finish… they're going full out.
Results
1. Jaroslav Kulhavy (Cze) Specialized Racing 1:25:08
2. Nino Schurter (Sui) Scott-Swisspower MTB-Racing
3. Florian Vogel (Sui) Scott-Swisspower MTB-Racing 01:21
4. Julien Absalon (Fra) Orbea 02:05
5. Lukas Flückiger (Sui) Trek World Racing 02:37
6. Stéphane Tempier (Fra) Tx Active Bianchi 02:45
7. Mathias Flückiger (Sui) Trek World Racing 02:49
8. Christoph Sauser (Sui) Specialized Racing 02:51
9. Thomas Litscher (Sui) Felt Oetztal X-Bionic Team 03:00
10. Fabian Giger (Sui) Rabobank-Giant Off-Road Team 03:04
11. Manuel Fumic (Ger) Cannondale Factory Racing 03:06
12. José Antonio Hermida Ramos (Esp) Multivan Merida Biking Team 03:10
13. Moritz Milatz (Ger) Bmc Mountainbike Racing Team 03:14
14. Sergio Mantecon Gutierrez (Esp) Wildwolf-Trek Racing 03:43
15. Catriel Andres Soto (Arg) Team Protek
16. Henk Jaap Moorlag (Ned) Rabobank-Giant Off-Road Team 03:44
17. Todd Wells (USA) Specialized Racing 04:06
18. Maxime Marotte (Fra) Bh-Suntour-Peisey Vallandry 04:29
19. Marco Aurelio Fontana (Ita) Cannondale Factory Racing 05:00
20. Samuel Schultz (USA) Subaru-Trek 05:13
21. Kevin Van Hoovels (Bel) Versluys-Evenza Team 05:29
22. Carlos Coloma Nicolas (Esp) Wildwolf-Trek Racing
23. Burry Stander (RSA) Specialized Racing 05:48
24. Kohei Yamamoto (Jpn) Team Bridgestone Anchor 05:58
25. Wolfram Kurschat (Ger) Topeak Ergon Racing Team 06:08
26. Inaki Lejarreta Errasti (Esp) Orbea 06:11
27. Martin Gujan (Sui) Cannondale Factory Racing 06:15
28. Liam Killeen (Gbr) Giant Factory Off-Road Team 06:27
29. Matous Ulman (Cze) S&H Superior Mtb Team 06:43
30. Rudi Van Houts (Ned) Multivan Merida Biking Team 06:55
31. Sergji Rysenko (Ukr) Isd Cycling Team 07:06
32. Michele Casagrande (Ita) Elettroveneta-Corratec 07:15
33. Jukka Vastaranta (Fin) Milka Trek Mtb Racing Team 07:24
34. Jochen Kass (Ger) Multivan Merida Biking Team 07:32
35. Geoff Kabush (Can) Team Maxxis-Rocky Mountain 07:36
36. Sid Taberlay (Aus) 07:39
37. Christoph Soukup (Aut) 07:41
38. Karl Markt (Aut) Felt Oetztal X-Bionic Team 07:44
39. Andras Parti (Hun) Euro One-Cube Mtb Team
40. Cédric Ravanel (Fra) Gt Skoda Chamonix 07:52
41. Andrea Tiberi (Ita) Torpado Surfing Shop 08:01
42. Emil Lindgren (Swe) Rabobank-Giant Off-Road Team 08:02
43. Marek Galinski (Pol) Jbg-2 Professional Mtb Team 08:04
44. Robby De Bock (Bel) 08:12
45. Umberto Corti (Ita) Team Cbe Tecnoimpianti A.S.D. 08:13
46. Derek Zandstra (Can)
47. Niels Wubben (Ned) Rabobank-Giant Off-Road Team 08:29
48. Adam Craig (USA) Rabobank-Giant Off-Road Team
49. Daniel Mcconnell (Aus) 08:44
50. Jan Skarnitzl (Cze) Rubena-Birell-Specialized Cycling Team 08:53
51. Jeremy Horgan-Kobelski (USA) Subaru-Trek 09:08
52. Lukas Kaufmann (Sui) 09:14
53. Alexis Vuillermoz (Fra) Lapierre International 09:18
54. Martino Fruet (Ita) 09:26
55. Milan Spesny (Cze) S&H Superior Mtb Team 09:36
56. Pascal Meyer (Sui) Thoemus Racing Team 09:46
57. Patrik Gallati (Sui) Bmc Mountainbike Racing Team 10:04
58. Hector Leonardo Paez Leon (Col) 10:07
59. Giuseppe Lamastra (Ita) Elettroveneta-Corratec 10:12
60. Michal Lami (Svk) 10:26
61. Tony Longo (Ita) Tx Active Bianchi 10:31
62. Julien Taramarcaz (Sui) Bmc Mountainbike Racing Team 11:00
63. Bas Peters (Ned) Team Merida Combee 11:14
64. Giancarlo Sax (Sui) Thoemus Racing Team 11:23
65. Adam Morka (Can) 11:46
66. Uwe Hochenwarter (Aut) Muskelkater Genesis Team 12:05
67. Adrian Brzozka (Pol) Jbg-2 Professional Mtb Team 13:23
68. Irjan Luttenberg (Ned) Mpl Specialized Mtb Team
69. Johannes Schweiggl (Ita)
70. Mario Alberto Rojas Rojas (Col) 14:14
71. Michael Broderick (USA) 14:38
72. Benjamin Wittrup Justesen (Den) -1 lap
73. Fabio Ursi (Ita) Team Cbe Tecnoimpianti A.S.D. -1 lap
74. Kazuhiro Yamamoto (Jpn) -1 lap
75. Renay Groustra (RSA) -1 lap
76. Matthew Hadley (Can) Xprezo-Borsao -1 lap
77. Paolo Cesar Montoya Cantillo (CRc) Gt Stacplastic Team -1 lap
78. Robert Gehbauer (Aut) -1 lap
79. Ludovic Dubau (Fra) Team Newcycling -1 lap
80. Hannes Metzler (Aut) Muskelkater Genesis Team -1 lap
81. Mirko Pirazzoli (Ita) -1 lap
82. Jiri Novak (Cze) S&H Superior Mtb Team -1 lap
83. Yader Zoli (Ita) Torpado Surfing Shop -1 lap
84. Davide Di Marco (Ita) -1 lap
85. Seiya Hirano (Jpn) Team Bridgestone Anchor -1 lap
86. Sang Hoon Na (Kor) -1 lap
87. Matthias Waldhart (Aut) -1 lap
88. Pascal Hossay (Bel) G-Skin-Deforche Mtb Racing Team -1 lap
89 Chun Hing Chan (HKg) -2 laps
90. Chris Jongewaard (Aus) Milka Trek Mtb Racing Team -2 laps
91. Oliver Munnik (RSA) -2 laps
92. Ken Onodera (Jpn) -2 laps
93. Pierre Lebreton (Fra) Bh-Suntour-Peisey Vallandry -2 laps
94. Severin Disch (Sui) Thoemus Racing Team -2 laps
95. Jiri Friedl (Cze) Rubena-Birell-Specialized Cycling Team -2 laps
96. Oleksandr Gerashchenko (Ukr) Isd Cycling Team -2 laps
97. Paul Remy (Fra) -2 laps
98. Roberto Crisi (Ita) -2 laps
99. Samuele Porro (Ita) -2 laps
100. Periklis Ilias (Gre) Team Protek -2 laps
101. Carl Jones (Nzl) -3 laps
102. Balz Weber (Sui) Bmc Mountainbike Racing Team -3 laps
103. Emmanuel Valencia Guadarrama (Mex) Turbo Bike Team -3 laps
104. Nicola Rohrbach (Sui) Elettroveneta-Corratec -3 laps
105. Cameron Jette (Can) 3 Rocks Racing -3 laps
106. Dror Pekatch (Isr) -3 laps
107. John Whittington (Gbr) -4 laps
108. Martin Loo (Est) Infotre-Bi & Esse-Leecougan -5 laps
DNF Marc Colom (Fra) Team Newcycling
DNF Jelmer Pietersma (Ned) Milka Trek Mtb Racing Team
DNF Sepp Freiburghaus (Sui) Thoemus Racing Team
DNF Martin Fanger (Sui) Giant Swiss Sr-Suntour
DNF Anton Sintsov (Rus)
DNF Pierre-Geoffroy Plantet (Fra) Lapierre International
DNF Luis Anderson Mejia Sanchez (Col) Asptt Definitive Gitane
DNF Ivan Alvarez Gutierrez (Esp) Giant Italia Team
DNF Rene Tann (Ger)
DNF Alexey Medvedev (Rus) Elettroveneta-Corratec
DNF Simon Scheiber (Aut) Felt Oetztal X-Bionic Team
DNF Ramon Sagues Portabella (Esp)
DNF Eddie Andres Rendon (Col)
Final Overall Standings
1. Jaroslav Kulhavy (Cze) Specialized Racing 1,610 pts
2. Nino Schurter (Sui) Scott-Swisspower MTB-Racing 1,270
3. Julien Absalon (Fra) Orbea 960
4. José Antonio Hermida Ramos (Esp) Multivan Merida Biking Team 813
5. Maxime Marotte (Fra) Bh-Suntour-Peisey Vallandry 810
6. Burry Stander (RSA) Specialized Racing 768
7. Christoph Sauser (Sui) Specialized Racing 760
8. Marco Aurelio Fontana (Ita) Cannondale Factory Racing 668
9. Stéphane Tempier (Fra) Tx Active Bianchi 662
10. Florian Vogel (Sui) Scott-Swisspower MTB-Racing 658
11. Manuel Fumic (Ger) Cannondale Factory Racing 658
12. Lukas Flückiger (Sui) Trek World Racing 636
13. Mathias Flückiger (Sui) Trek World Racing 598
14. Carlos Coloma Nicolas (Esp) Wildwolf-Trek Racing 550
15. Thomas Litscher (Sui) Felt Oetztal X-Bionic Team 537
16. Fabian Giger (Sui) Rabobank-Giant Offroad Team 529
17. Moritz Milatz (Ger) Bmc Mountain Bike Racing Team 511
18. Rudi Van Houts (Ned) 496
19. Sergio Mantecon Gutierrez (Esp) Wildwolf-Trek Racing 470
20. Martin Gujan (Sui) Cannondale Factory Racing 465
21. Todd Wells (USA) Specialized Racing 441
22. Inaki Lejarreta Errasti (Esp) Orbea 421
23. Liam Killeen (Gbr) Giant Factory Off-Road Team 368
24. Geoff Kabush (Can) Team Maxxis-Rocky Mountain 363
25. Ivan Alvarez Gutierrez (Esp) Giant Italia Team 358
26. Karl Markt (Aut) Felt Oetztal X-Bionic Team 334
27. Samuel Schultz (USA) Subaru-Trek 279
28. Jochen Kass (Ger) Multivan Merida Biking Team 273
29. Jan Skarnitzl (Cze) Rubena-Birell-Specialized Cycling Team 267
30. Henk Jaap Moorlag (Ned) Rabobank-Giant Offroad Team 256
31. Patrik Gallati (Sui) Bmc Mountain Bike Racing Team 252
32. Matous Ulman (Cze) S&H Superior Mtb Team 252
33. Ralph Naef (Sui) Multivan Merida Biking Team 249
34. Derek Zandstra (Can) 247
35. Jeremy Horgan-Kobelski (USA) Subaru-Trek 245
36. Wolfram Kurschat (Ger) Topeak Ergon Racing Team 235
37. Martin Fanger (Sui) Giant Swiss Sr-Suntour 214
38. Kevin Van Hoovels (Bel) Versluys-Evenza Team 206
39. Kohei Yamamoto (Jpn) Team Bridgestone Anchor 199
40. Cédric Ravanel (Fra) Gt Skoda Chamonix 197
41. Lukas Kaufmann (Sui) 184
42. Ruben Ruzafa Cueto (Esp) Orbea 174
43. Jiri Friedl (Cze) Rubena-Birell-Specialized Cycling Team 173
44. Andras Parti (Hun) Euro One-Cube Mtb Team 163
45. Adam Craig (USA) Rabobank-Giant Offroad Team 162
46. Marek Galinski (Pol) Jbg-2 Professional Mtb Team 162
47. Catriel Andres Soto (Arg) Team Protek 160
48. Oliver Beckingsale (Gbr) 135
49. Marc Colom (Fra) Team Newcycling 130
50. Pierre-Geoffroy Plantet (Fra) Team Newcycling 125
51. Nicola Rohrbach (Sui) Elettroveneta-Corratec 125
52. Severin Disch (Sui) Thoemus Racing Team 114
53. Martino Fruet (Ita) 113
54. Christoph Soukup (Aut) 110
55. Jukka Vastaranta (Fin) Milka Trek Mtb Racing Team 110
56. Uwe Hochenwarter (Aut) Muskelkater Genesis Team 109
57. Jeremiah Bishop (USA) 100
58. Daniel Mcconnell (Aus) 92
59. Emil Lindgren (Swe) Rabobank-Giant Offroad Team 91
60. Jiri Novak (Cze) S&H Superior Mtb Team 90
61. Jelmer Pietersma (Ned) Milka Trek Mtb Racing Team 85
62. Irjan Luttenberg (Ned) Mpl Specialized Mtb Team 82
63. Andrea Tiberi (Ita) Torpado Surfing Shop 69
64. Sepp Freiburghaus (Sui) Thoemus Racing Team 68
65. Milan Spesny (Cze) S&H Superior Mtb Team 67
66. Pascal Meyer (Sui) Thoemus Racing Team 63
67. Michele Casagrande (Ita) Elettroveneta-Corratec 61
68. Kristian Hynek (Cze) 58
69. Niels Wubben (Ned) Rabobank-Giant Offroad Team 58
70. Umberto Corti (Ita) Team Cbe Tecnoimpianti A.S.D. 55
71. Robert Mennen (Ger) Topeak Ergon Racing Team 52
72. Balz Weber (Sui) Bmc Mountain Bike Racing Team 50
73. Chris Jongewaard (Aus) 47
74. Hannes Metzler (Aut) Muskelkater Genesis Team 46
75. Michal Lami (Svk) 46
76. Sergji Rysenko (Ukr) Isd Cycling Team 44
77. Adam Morka (Can) 43
78. Tony Longo (Ita) Tx Active Bianchi 41
79. Filip Eberl (Cze) 38
80. Sid Taberlay (Aus) Kenda/H2O Overdrive 34
81. Matthew Hadley (Can) 34
82. Jean-Christophe Peraud (Fra) 32
83. Andrew Watson (Can) 32
84. Spencer Paxson (USA) Kona 30
85. Lachlan Norris (Aus) Giant Factory Off-Road Team 30
86. Anton Sintsov (Rus) 26
87. Peter Glassford (Can) 25
88. Robby De Bock (Bel) 24
89. Periklis Ilias (Gre) Team Protek 21
90. Max Plaxton (Can) 20
91. Eric Batty (Can) 19
92. Rotem Ishai (Isr) 17
93. Martin Loo (Est) Infotre-Bi&Esse- Leecougan 17
94. Alexis Vuillermoz (Fra) Lapierre International 15
95. Robert Gehbauer (Aut) 15
96. Benjamin Wittrup Justesen (Den) 15
97. Raphael Gagne (Can) 13
98. Alban Lakata (Aut) Topeak Ergon Racing Team 13
99. Joshua Carlson (Aus) 11
100. Hector Leonardo Paez Leon (Col) 10
101. Rene Tann (Ger) 10
102. Giuseppe Lamastra (Ita) Elettroveneta-Corratec 9
103. Michael Broderick (USA) 9
104. Simon Scheiber (Aut) Felt Oetztal X-Bionic Team 8