August 21, 2011 (Val di Sole, Italy) – France's Myriam Nicole (Riding Addiction Commencal) won the Elite Women's final DH round on Sunday as defending world champ Tracy Moseley (Gbr) Trek World Racing
claimed the overall season title. With her victory Nicole moved into 4th overall bumping Sabrina Jonnier (Fra) Team Maxxis – Rocky Mountain, who finished 7th today, down to 5th overall.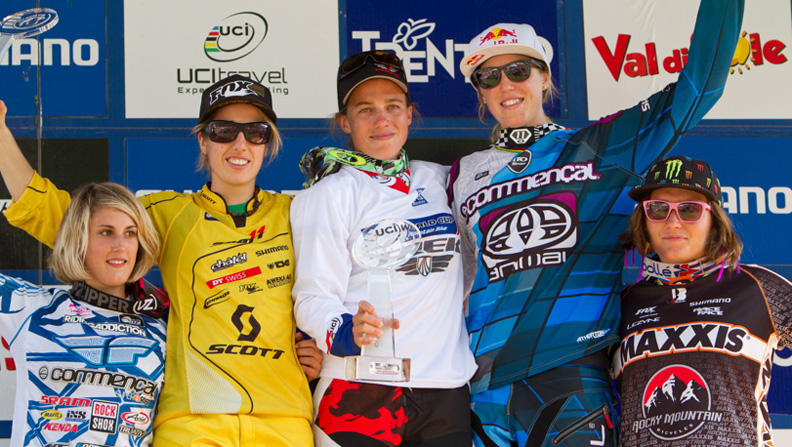 Canada's lone racer Miranda Miller (Santa Cruz/SRAM) was 24th in the qualifications and did not make the final.  Micayla Gatto finished the season as the top Canadian overall in 13th.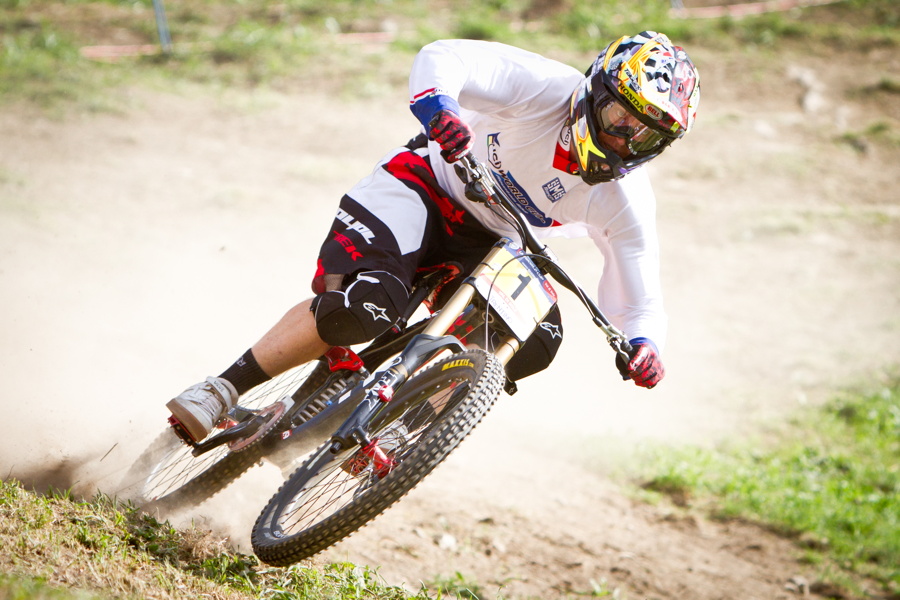 Aaron Gwin (USA) Trek World Racing added another WCup win to his resume taking the final round and the overall DH series title. The big news was Danny Hart (Gbr) Giant Factory Team taking second on the day to finish 4th overall eclipsing Canada's Steve Smith (Devinci Global Racing), who suffered an injury and did not start, but still made the final overall podium in 5th.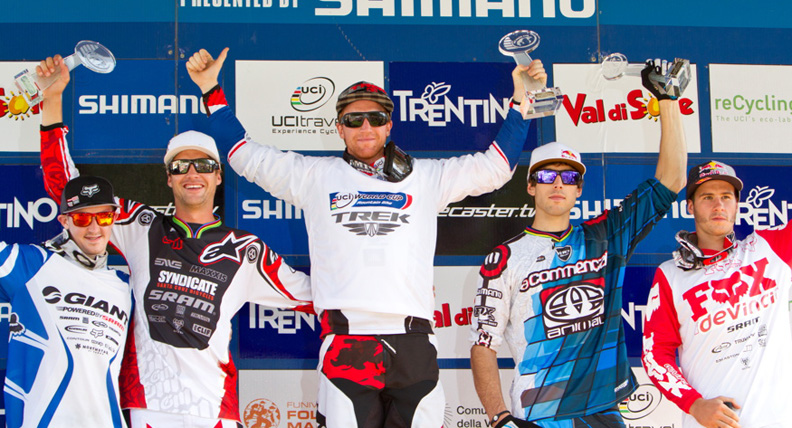 Results
Elite Women
1. Myriam Nicole (Fra) Riding Addiction Commencal    3:52.231
2. Floriane Pugin (Fra) Scott 11      0.809
3. Rachel Atherton (Gbr) Commencal      2.174
4. Emmeline Ragot (Fra) Team GR      10.624
5. Tracy Moseley (Gbr) Trek World Racing       10.994
6. Emilie Siegenthaler (Sui) Scott 11    15.253
7. Sabrina Jonnier (Fra) Team Maxxis-Rocky Mountain    18.905
8. Manon Carpenter* (Gbr) Madison Saracen    19.009
9. Petra Bernhard (Aut) Alpine Commencal Austria    19.656
10. Jill Kintner (USA) Transition/Red Bull    25.641
11. Harriet Rucknagel (Ger)    32.154
12. Jessica Stone (Gbr) Trek Gravity Girls Team    32.414
13. Caroline Sax (Fra) Double Dragon El Gallo    34.058
14. Céline Gros (Fra) Team Morzine-Avoriaz/Haute-Savoie    34.136
15. Mio Suemasa (Jpn) FFC    37.242
16. Alia Marcellini (Ita) Torpado Surfing Shop    38.531
17. Lea Fourton* (Fra) Double Dragon El Gallo    39.41
18. Fionn Griffiths (Gbr) Team GR    43.37
19. Agnes Delest* (Fra)    46.669
DNS Morgane Charre (Fra) Passion Velo Thiers Stemtee
DNS Anita Ager-Wick (Nor)   
Elite Men
1. Aaron Gwin (USA) Trek World Racing 3:10.35
2. Danny Hart (Gbr) Giant Factory Team 1.232
3. Gee Atherton (Gbr) Commencal  4.114
4. Troy Brosnan (Aus) Monster Energy/Specialized/Mad Catz 5.417
5. Cameron Cole (Nzl) MS Evil Racing 6.173
6. Greg Minnaar (RSA) Santa Cruz Syndicate 6.973
7. Brook Macdonald (Nzl) MS Evil Racing 8.037
54. Matthew Beer (Can) 23.164
DNS Steve Smith (Can) Devinci Global Racing
Final Overall Standings
Elite Women
1. Tracy Moseley (Gbr) Trek World Racing 1,465
2. Floriane Pugin (Fra) Scott 11 1,390
3. Rachel Atherton (Gbr) Commencal 1,115
4. Myriam Nicole (Fra) Riding Addiction Commencal 929
5. Sabrina Jonnier (Fra) Team Maxxis – Rocky Mountain 889
13. Micayla Gatto (Can) Team Young Guns 235
19. Miranda Miller (Can) Santa Cruz/SRAM 105
Elite Men
1. Aaron Gwin (USA) Trek World Racing     1,558
2. Greg Minnaar (RSA) Santa Cruz Syndicate    1,093
3. Gee Atherton (Gbr) Commencal    1,009
4. Danny Hart (Gbr) Giant Factory Off-Road Team  879
5. Steve Smith (Can) Devinci Global Racing      772
6. Brook Macdonald (Nzl) MS Evil Racing  742
*Junior