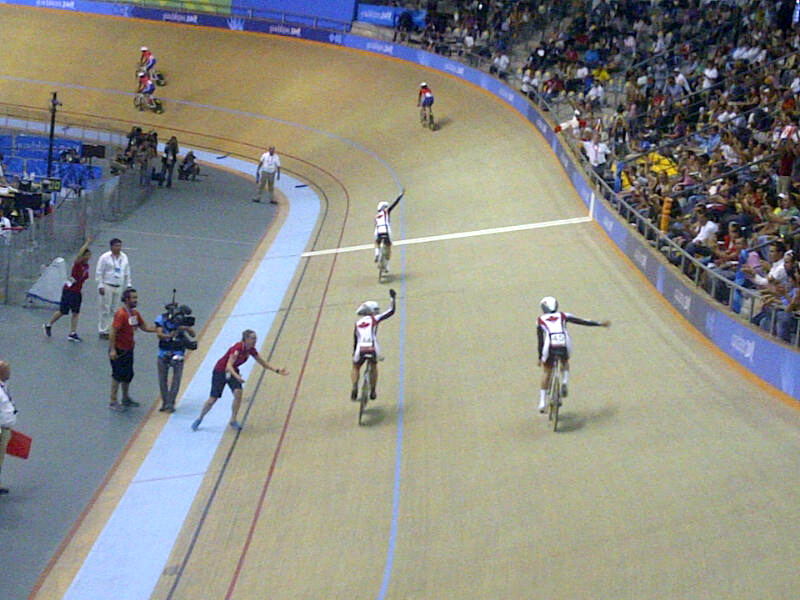 October 18, 2011 (Guadalajara, Mexico) – It was a magical day on the track for the Women's Team Pursuit squad at Pan-American Games in Mexico. Canadian riders Laura Brown (Vancouver, BC), Stephanie Roorda (Vancouver, BC) and Jasmin Glaesser (Coquitlam, BC) won the Gold medal in the women's team pursuit on the track, competing at the 2011 Pan-American Games in Guadalajara, Mexico. In doing so, the team of three riders captured Canada's fourth cycling medal of these Games and first gold medal for Canadian cyclists.
The team qualified for the gold medal race with a time of 3:25.093 in the morning session, and in doing so broke the previous Canadian record, which was set at 3:25.416 at the 2010 UCI World Cup in Melbourne, Australia by Brown, Roorda and Tara Whitten (Edmonton, AB).
In the Gold medal dual against Cuba, Roorda, Brown and Glaesser rode to an amazing time of 3:21.488 to set a new Pan-American mark, and significantly improve on their morning's qualifying performance.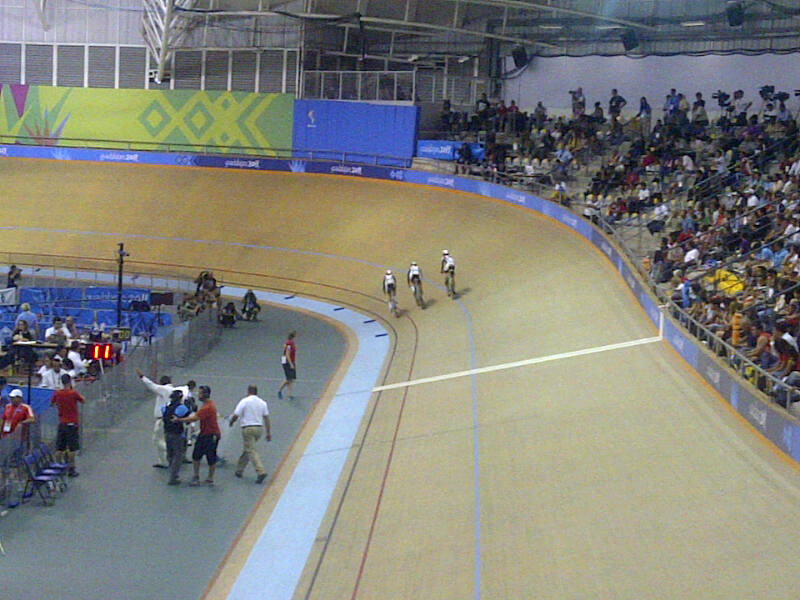 "It's cheesy, but there is a quote that says 'Happiness is only achieved when success is shared'. To win a gold medal with my teammates Steph and Jasmin has been amazing. It's certainly a very special medal," said Brown, who also took the bronze medal in the women's road time trials on Sunday.
"It's amazing! We were just trying to beat the other team. When I turned around and I saw 3:21,4, I felt that it was almost better than winning the gold medal, because that is a fantastic result for this team. We had never raced together before today, just trained together," said Stephanie Roorda, who will be racing the women's Omnium for Canada over the next two days.
Today's racing also marked the first international appearance on the track by Jasmin Glaesser while wearing the Canadian uniform. The young cyclist held a German licence until a few weeks ago when she officially received her Canadian citizenship before making the trip to Mexico.
"I couldn't have asked for a better day. It was absolutely amazing. All three of us committed 100% to the ride, to doing our best. I couldn't believe seeing that 3:21 up there afterwards. It's just amazing," said Glaesser. "I'm so glad that I can race for Canada. I've been working really hard for this, and really glad to be here. I've been enjoying the experience. I am so excited about the next year, us going as a team, getting more experience."
Tanya Dubnicoff, coach of the Canadian Track Cycling Team in Guadalajara, was thrilled with the brilliant performance of this newly formed team. "What an amazing day. I knew after seeing the qualifying times that we were the team with more to gain going into the finals. That being said, you can't count anyone out. We knew the Cubans would come out fast, and we had to stick to our plan, to keep to our schedule, and we did. I didn't even look at the board, at the Cubans. I have never seen a better ride from Team Canada in the Women's Team Pursuit. It was beautiful."
In his first international Omnium, Jacob Schwingboth (Cloverdale, BC) is sitting in seventh place midway through the event, still in the mix for a good result against some of the best international riders. Schwingboth will be racing the last three Omnium races tomorrow.
Qualifications HERE – more photos HERE.
Results
Women's Team Pursuit
Final
For Gold and Silver
1. Canada (Laura Brown, Steph Roorda, Jasmin Glaesser) 03:21.448 Games Record
2. Cuba 03:25.335
For Bronze
3. Colombia 03:26.888
4. Venezuela    03:30.823
Men's Omnium
Flying 200
1. Juan Esteban Arango (Colombia) 13.069
2. Ruben Companioni (Cuba) 13.379
3. Luis Mansilla (Chile) 13.515
4. Jacob Schwingboth (Canada) 13.55  
5. Carlos Daniel Linares (Venezuela) 13.552
6. Walter Fernando Perez (Argentina) 13.567
7. Robson Dias (Brazil) 13.616
8. Jorge Luis Perez (Dominican Republic) 13.666
9. Cesar Salvador Vaquera (Mexico) 13.85
10. Jose Carlos Ragonessi (Ecuador) 14.349
11. Manuel Oseas Rodas (Guatemala) 14.805
Points Race
1. Manuel Oseas Rodas (Guatemala) 77 pts
2. Jorge Luis Perez (Dominican Republic) 76
3. Jose Carlos Ragonessi (Ecuador) 72
4. Walter Fernando Perez (Argentina) 65
5. Juan Esteban Arango (Colombia) 18
6. Luis Mansilla (Chile) 17
7. Ruben Companioni (Cuba) 14
8. Jacob Schwingboth (Canada) 11   
DNF Robson Dias (Brazil)
DNF Cesar Salvador Vaquera (Mexico)
DNF Carlos Daniel Linares (Venezuela)
Elimination
1. Luis Mansilla (Chile)
2. Juan Esteban Arango (Colombia)
3. Jorge Luis Perez (Dominican Republic)
4. Walter Fernando Perez (Argentina)
5. Jose Carlos Ragonessi (Ecuador)
6. Robson Dias (Brazil)
7. Carlos Daniel Linares (Venezuela)
8. Ruben Companioni (Cuba)
9. Cesar Salvador Vaquera (Mexico)
10. Jacob Schwingboth (Canada)
11. Manuel Oseas Rodas (Guatemala)
Men's Sprint
Qualifications
1. Njisane Phillip (Trinidad & Tobago) 9.977 Games Record
2. Michael Blatchford (USA) 9.983
3. Fabian Hernando Puerta (Colombia) 9.985
4. Hersony Gadiel Canelon (Venezuela) 10.006
5. James David Watkins (USA) 10.058
6. Jonathan Marin (Colombia) 10.092
7. Leandro Botasso (Argentina) 10.122
8. Flavio Cipriano (Brazil) 10.188
9. Angel Pulgar (Venezuela) 10.23
10. Jonathan Gatto (Argentina) 10.313
11. Ruben Elias Horta (Mexico) 10.359
12. Alejandro Mainat (Cuba) 10.426
13. Cristopher Javier Mansilla (Chile) 10.601
14. Carlos Arturo Carrasco (Mexico) 10.719
Fastest 12 riders continue to 1/8 Final
Women's Sprint
Qualifications
1. Daniela Larreal (Venezuela) 10.995* Games Record (last held by Canada's Tanya Dubnicoff)
2. Lisandra Guerra (Cuba) 11.126
3. Diana Maria Garcia (Colombia) 11.293
4. Sumaia Ribeiro (Brazil) 11.336
5. Juliana Gaviria (Colombia) 11.341
6. Luz Daniela Gaxiola (Mexico) 11.463
7. Dana Rincon Feiss (USA) 11.503
8. Laura Arias (Cuba) 11.593
9. Nancy Llarely Contreras (Mexico) 11.616
10. Gleydimar Tapia (Venezuela) 11.652
11. Deborah Coronel (Argentina 12.194
Fastest 8 riders continue to 1/4 Final