September 07, 2011 (Collingwood, ON) – The unveiling of a new mountain bike venue at Highlands Nordic, 10 minutes south of Collingwood, is exciting news for the mountain bike community.  A few weeks ago the venue opened for limited pre-riding opportunities and the reviews were stellar!
Chief course designer Scott Holmes has created a flowy, yet very challenging course, that will become a favorite for Ontario Cup riders. "We are excited to showcase Highlands Nordic's terrain that has made it a favorite for Nordic skiers for decades" says Mr. Holmes who along with many volunteers, and HBCC club members, has created the course over the past couple of seasons. "Mountain bikers love variety and our aim is to provide new courses, and venues, every year for the Plastiglas Ontario Cup Series.  Scott, with the support of Highlands Nordic, has offered up an incredible course and venue for riders to compete at," says Adam Ruppel of Chico Racing.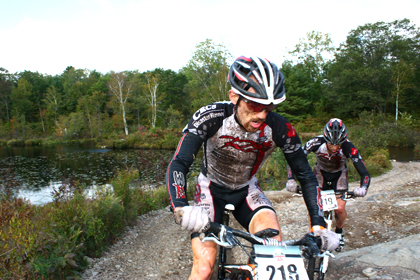 Another special promotion for this event are the youth events including the opportunity to get a free one-day permit for those registering in Squirt (9-10 years), Peewee (11-12 years) or Minime (13-14 years).  We are also including a free special-designed kid's event for those 8 and under courtesy of the Ontario Cycling Association and the youth initiative.  This 1 km course will feature 2 laps for the 7-8 year olds and 1 lap for 6 & under.
Also of exciting news for this weekend, Derek Zandstra (3 Rox Racing) has confirmed that he will be racing Sunday. Zandstra has just arrived home from World Championships in Champrey, Switzerland, where he placed an impressive 26th out 103 starters. Zandstra is one of the top North American riders in the world. "It will awesome to have Derek out this weekend. Anytime we have a rider of his caliber attend an Ontario Cup, it always makes the Elite race that much more exciting, as fellow competitors get to compete against a top rider." explains Matt Douglas of Chico Racing.
Whether you are an elite rider, or a first-time mountain bike event participant, the Ontario Championships at Highlands Nordic has an age and ability category for you.  Pre-registration is available until September 7th with on-site event day registration also available.