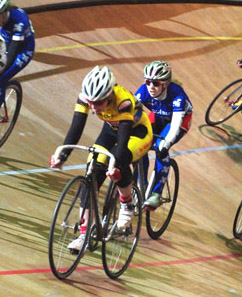 July 28, 2011 (London, ON) – The pre-registration dealine is fast approaching for the 2011 Ontario Track Championships.  The entry fee increases after midnight Thursday, July 28th.  In 2011, the FCV and OCA have gone back to the traditional Championship format with "stand alone" events.
Riders have five events to choose from, Sprint, Kilo, Pursuit, Scratch and Points races.
2011 will be the first year for the Under 15 age group contesting provincial medals.  The other categories include, Cadet (M/W), Junior (M/W), Elite (M/W) and Masters.
Register HERE today.
Time standards to earn a spot on Team Ontario are in place for the National Track Championships in Bromont in August.  Team Ontario will focus on the Team Sprint and Team Pursuit events at Nationals.
The FCV will be open for number and transponder pick up is on Friday evening from 5:45pm.  Riders will be able to stretch their legs in an open session on Friday evening after 6pm.
The competition begins at 9am on Saturday, July 30th and continues with the Individual Pursuit TT on Sunday at 10am.  The complete racing schedule can be seen Leave a Reply

You must be logged in to post a comment.