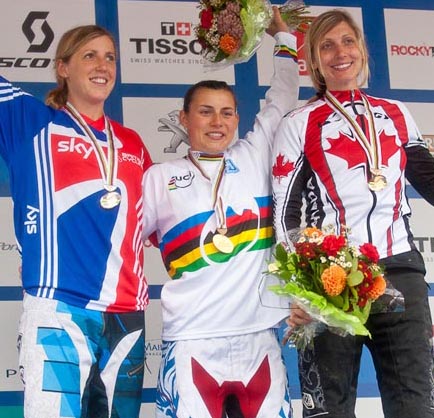 September 7, 2011 (Champery, Switzerland) – Danny Hart (Great Britain) and France's Emmeline Ragot laid claim to the  Elite Downhill World Championship titles as the 2011 2011 MTB Worlds came to close on Sept. 5. For Canada the cheers became a roar as Whistler's Claire Buchar nailed the run of her life landing third on the podium for the bronze.
Earlier in the day during the Junior competitions it was Troy Brosnan (Australia), defending champ, and Manon Carpenter (Great Britain) taking home the junior men's and women's titles respectively.
The track in Champery is steep and treacherous, when it gets wet it turns in a hellish downhill. Rider after rider went down on a  clay based course that turned to ice after a night of torrential rains.
As the junior men hit the track the rain started again and wouldn't let up for the rest of the day. Simply staying upright was a challenge for many riders, as the steep switchback corners and catch netting claimed more than their fair share of the world's best downhiller riders.
No one could best Damien Spagnolo from France who was in the hot seat until the last few riders. Then Hart put down a run that was a sight to behold, bringing fans around the globe to their feet as he slid his way confidently down the steepest track in downhill, and crossed the line with an untouchable 11.699 second time ahead of Spagnolo.
Samuel Blenkinsop of New Zealand took third as both Gee Atherton (Great Britain) and World Cup series winner phenom Aaron Gwin succumbed to the treacherous track with crashes that took them out of contention.
Hart was ecstatic about his win. "There was a little whip in my final run! I had a spot on run, when the rain was coming down I stood in the start looking at the track and I saw a river. There was more grip than there has been all week, so i just headed for the river and pinned it and it seemed to work. The crowd was amazing and they were behind me all the way down, i couldn't have done it without my team Giant and SRAM, my parents and everyone."
Ragot somehow managed to keep the rubber down with her go-for-broke style paying off this week with her second set of rainbow stripes. Rachel Atherton (Great Britain) was second despite a crash and Canada's own Buchar scored an incredible third for a career-best bronze – check out the audio interview below.
Ragot spoke with Pedal at the finish line. "It was pretty hard out there. I decided to be smart on my bike and just not crash and that's what happened. It helped a lot. There was a lot of sliding, but I tried to just control my speed, and even then my  back wheel was just going somewhere I didn't want. It was pretty hard at the end."
For the Junior women, it was a bit of a gong show with almost every rider falling at least once in their run. Carpenter was 14 seconds ahead of France's Delest Agnes, and Canada's Lauren Rosser was third. Rosser went down five times during her run and still managed to be only 17 seconds off of the lead.
Defending junior men's champion Brosnan successfully defended his title, putting in a very smooth run that would have put him second in the Elite men's category. The young Aussie has a very bright future ahead of him.
Audio Interview with Claire Buchar

Men's full results HERE.
Women's full results HERE.
Women

Elite Women Podium: (l-r) Rachel Atherton (GBR) 2nd, Emmeline Ragot (Fra) 1st, Claire Buchar (Can) 3rd © Fraser Britton
Men