November 5, 2011 (Toronto, ON) – A perfect fall day with blue skies, cool temps, and bright sunshine greeted racers for the 2011 Canadian National Cyclocross Championships presented by ZM Cycle and Fitness that saw Emily Batty (ON) Subaru-Trek claim her first 14km Elite Women's CX title while Chris Sheppard (BC) Rocky Mountain Bicycles/Shimano handily defended his crown in the Elite Men's 24.5km race.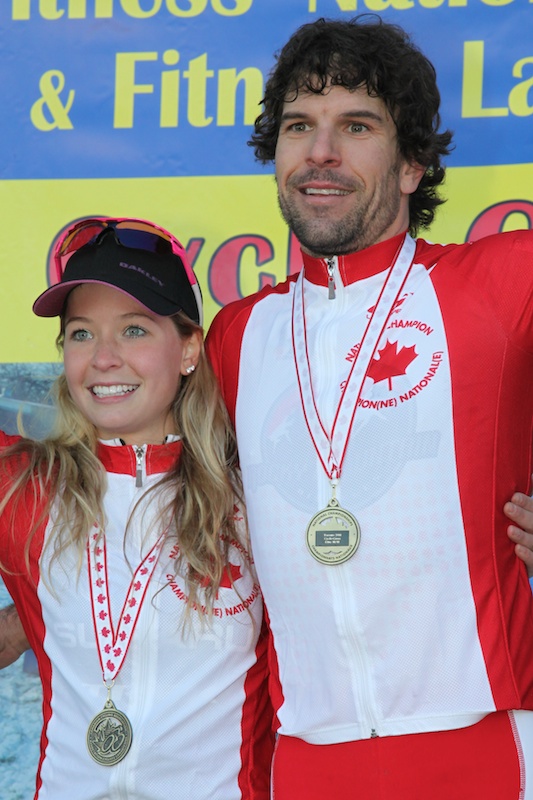 In the 21km U23 Men's competition defending champ Evan McNeely (EMD Serono/Specialized) dominated for another win while Quebec's Yohan Patry (Ride With Rendall) took no prisoners on his way to winning the title in the Junior Men's 14km race.
Held in Pine Point Park along the banks of the Humber River near the Toronto airport, the 3.5km course designed by race organizer, Ziggy Martuzalski, received positive reviews from many of the 200+ participants.  Making the most of the limited space available, the circuit contained three tough climbs, an equal number of tricky downhills, two short sand sections, a double barrier and a log jump thrown in for good measure.
The Championships began at 9:30 am with the Masters races as Julie Marceau (ON) Lapdogs scored the first victory of the day in Women's competition. Next it was Peter Lawrence (AB) Top Gear Road topping the Master 50+ Men field followed by Todd Bowden (Exposition Wheelmen) grabbing the M40-49 title. In the Men's 30-39 battle defending champ, Peter Mogg (ON) Stevens Racing p/b The Cyclery, was untouchable winning by almost half a minute.
The U23 Men hit the start line with Jeremy Martin (QC) Rocky Mountain and Jared Stafford (ON) Ride With Rendall leading the charge but McNeely soon asserted himself during the first lap and never looked back. Stafford was the only rider who could challenge as Martin Andrew L'Esperance (NS) Norco, Evan Guthrie (BC) Rocky Mountain, Mitchell Bailey (ON) Trek Canada and Felix Bouvette (QC)  Prud'Homme jockeyed for position behind.
On the penultimate lap five Stafford tried to reel in McNeely but the defending champ was ready and would not relinquish his control as Stafford settled for the silver and Martin took the bronze. The 19 year-old McNeely is a chemical engineering student at Carleton University and has two more years of U23 eligibility remaining.  He will not be attending the upcoming 2012 World Championships in Belgium, but is looking toward 2013 in Louisville, Kentucky.
Elite Women/Junior Men
The Elite Women's 50-minute race was destined to crown a new winner as defending champ, Wendy Simms, and the rest of the 2010 podium was not on the start line.
Mical Dyck (BC) Pro City Racing lead the charge thru the start loop but Pepper Harlton (AB) Juventus quickly took over. "I just put in an effort to see if I could get some gapping in the pack," explained 26 year-old Edmontonian, who held a small margin over the strung-out field.
But Harlton's strategy would not prevail as Batty, accustomed to the longer distances with her World Cup mountain bike race experience, wisely bided her time, allowing Harlton to serve as a rabbit.
"When Pepper was 20 seconds up halfway through the race I wasn't concerned too much," revealed Batty. "She definitely set a good pace and I had someone out there to chase, that's for sure."
Nearing the end of lap two Batty made her move, catching and passing Harlton and established a lead that would not be challenged.  "It feels awesome," said the winner.  "I loved the course. It's quite flowy and it's a beautiful day so it's just awesome altogether."
Despite relinquishing the lead, Harlton maintained a strong chase-pace to secure the silver medal. "It was a big grind today," she admitted.  "A lot of climbing. It's a real climber's course today. Pretty tough out there." Harlton is already looking ahead, "I know I've got a lot to do yet; a lot of things to work on but there are a lot of positives. It was a good ride for me."
Following her initial lead, Dyck faded to third, but was able to maintain her pace to the finish. The Victoria, B.C. resident revealed that she almost didn't start the race. "I separated my shoulder a week and a half ago (due to a fall on her 'cross bike), so just being able to ride was a positive for me.  I had my first ride yesterday outside since it happened and it felt a lot better than I thought it would so I figured why not?  I'm out here I might as well race."
The Junior Men were on course with the Elite Women and it was clear from the get-go that Patry meant business. He lit a fuse at the start and blasted to victory.  The resident of St. Jerome, QC is planning to travel to Belgium for the CX World Championships.
Tommy Beaulieu (Team Alberta) was a well-deserved silver medalist while defending champ Ben Perry (Team CHCH) of St. Catherines, ON was forced to play catch up as he was cut off early during the start loop and struck a tree. The incident knocked his rear wheel out of place, causing Perry to lose an estimated 45 seconds. He fought his way back valiantly through the field to land on the podium with the bronze.
Elite Men's Race
As the defending champ, Sheppard knew that he was a marked man, but he felt that the difficult course would work to his favour and he stayed near the front waiting for the right moment to assert himself and force his rivals hands.
Ontario's Mark Batty (SpiderTech pb C10) took the holeshot and led a line of contenders through the start loop. Right on Batty's wheel along with Sheppard were former CX champ Mike Garrigan (LaPierre Canada) and Aaron Schooler (Team H&R Block-SRI Importing) as were Tyler Trace (Trek Red Truck), Kevin Noiles (Sportique), Andrew Watson (Norco Factory Team) and Adam Morka (Trek Canada).
Garrigan, Batty and Schooler were all keen to take turns at the front, with Sheppard sitting in.  The pace proved too hot for Trace, Watson and Morka, who gradually slipped off the back.  Chasing furiously were Derrick St. John (Stevens p/b The Cyclery) and Craig Richey (Renner Custom CX).
As the front group separated from the pack a lead quintet formed consisting of Batty, Garrigan, Schooler, Sheppard and Schooler who stuck together until late on the third lap. Then Sheppard made a strong attack and a gap quickly opened up as the winning move was now underway.
Mechanical misfortune took Noiles out of the running while Garrigan started to suffer from the unrelenting pace. As attrition took its toll only Batty and Schooler could stomach the pace set by Sheppard but the BC 'crosser was untouchable.  "Chris was gone, so any chance at claiming first was pretty much dealt with unless he had a massive crash or a mechanical or something," commented Batty. "It came down to Aaron [Schooler] and I fighting for second and third."
The two chasers traded surges to no avail, setting up a final sprint on the last lap and Batty came out on top.  "I was waiting for him to make his move and I just reacted as hard as I could and was able to hold him off," added Batty. "He was very strong."
Schooler wasn't displeased with third, happily giving kudos to Batty and Sheppard.  "He was long gone," he said of Sheppard, adding that he was unable to shake Batty despite a couple of hard efforts in the late going.
With an extra hour of sleep as the clocks turn back this evening racers will test their legs again on Sunday at the Nationals Revenge in the hunt for more cash and bragging rights…
Results
Master 30+ Women – 3 laps – 10.5km
1. Julie Marceau (ON) Lapdogs 0:36:20
2. Mélissa Houde (QC) Sportif Bromont 1:45
3. Lori Kofman (ON) Chain Reaction/Molson 67 1:51
4. Carmen Labbe (QC) CVM Normandin-Mathieu Performance 1:57
5. Shawna Donaldson (AB) Cyclemeisters 1:59
6. Cindy Koo (AB) Deadgoat Racing 2:29
7. Michelle Cordy (ON) HB Cycling Team 3:56
8. Lesley Chown (ON) Team CF 5:13
9. Leslie Greene (ON Chain Reaction/Molson 67 7:43
10. Amanda Leigh Cox (QC) Pirate Cycling League 7:57
DNF Nathalie Mousseau (ON) Reynold Cycle
DNS Aly Armstrong (ON) Team CF
Master 50+ Men – 3 laps – 10.5km
1. Peter Lawrence (AB) Top Gear Road 0:32:16
2. Robert Orange (QC) Ride with Rendall 0:58
3. Peter Wellsman (BC) Pro City Racing 1:46
4. Craig Fraser (AB) Top Gear/Road 1:57
5. Bob Bergman (ON) Canadian Cycling Magazine 2:01
6. James Laird (ON) First Capital Cycling – Kingston 2:01
7. Jon Arne Enevoldsen (AB) Independant 2:13
8. Robert Sule (ON) Chain Reaction/Molson 67 2:13
9. Peter Kofman (ON) Chain Reaction/Molson 67 2:16
10. Michel Hamel (QC) Club Cycliste De Sherbrooke 2:37
11. Peter Toth (AB) Juventus Cycling 2:53
12. Jon Gee (ON) Ride with Rendall 3:06
13. Colin Funk (ON) First Capital Cycling 3:11
14. Alain Major (QC) Guru Cinelume 3:25
15. Thomas Mackay (ON) Independent 3:33
16. Michael Cranwell (ON) Lapdogs Cycling Club 3:56
17. Jamie Emery (BC) Pro City Racing 4:09
18. Robert Desforges (QC) C.C.Sherbrooke 4:55
19. Giles Marshall (ON) Chain Reaction/Molson 67 4:57
20. Robert Massicotte (ON) Cyclepathmarkham.com 5:20
21. Gilles Cordier (ON) Kunstadt Sports 5:32
22. Murray Wood (ON) Velocity Cycle and Ski 5:32
23. Garnett Abbey (ON) Cyclepath Oakville Race Team 6:31
24. Rob Cheskey (ON) Cyclepath Oakville Race Team 7:18
25. William Packham (ON) Lapdogs Cycling Club 8:48
Master 40-49 – 4 laps – 14km
1. Todd Bowden (Can) Exposition Wheelmen 0:40:14
2. Pascal Bussieres (QC) Team Spirit Gth Cannondale 0:16
3. Marc Boudreau (ON) Stevens Racing p/b The Cyclery 0:44
4. Normon Thibault (BC) Frontrunners 1:53
5. Andrew Croutch (ON) The Hub Race Team 2:06
6. Andre Sutton (AB) Hardcore 2:06
7. Paul Greene (ON) Chain Reaction/Molson 67 2:32
8. Paul Reinis (ON) Lapdogs Cycling Club 2:55
9. Steve Bouvette (QC) Prud'homme/IGA 3:07
10. Mark Rumsey (AB) Hardcore 3:19
11. Czeslaw Lukaszewicz (QC) Prudhomme-IGA 3:28
12. Ted Ingram (ON) Cycle Solutions/Angry Johnny's CC 3:28
13. Steve Proulx (ON) The Cyclery 3:50
14. Kris Westwood (ON) The Cyclery 3:52
15. Graham Tutti (BC) John Henry Rides 3:52
16. Maxime Hebert (QC) Quilicot-Rackultra 4:03
17. Edgars Apse (ON) Darkhorse Flyers 4:09
18. Eric Jobin (ON) Reynold Cycle 5:14
19. Jacques Bilodeau (QC) Equipe BR 5:23
20. Graham Jones (ON) Sweet Pete's 5:27
21. Mark Pagell (ON) Independent 5:27
22. Adrian Jackson (ON) Nacsworld.com 5:32
23. Stephane Marcotte (ON) Dark Horse Flyers 5:36
24. Kevin Watson (ON) Sound Solutions 5:43
25. Jeffrey Neilson (AB) Terrascape Racing 5:53
26. Chris Wood (ON) Sound Solutions 6:21
27. Chris Firek (ON) MBRC.org – Gears 6:35
28. Christopher Strahm (ON) Cycles London Racing Team 6:40
29. David Bilenkey (ON) Euro-Sports/Foodery/Dal-Cin 6:56
30. Brian Kelly (ON) Nacsworld.com 6:56
31. Gabe Faraone (ON) Zm Cycle & Fitness 6:57
32. Jeff Ker (ON) Kurzawinski Coach/Six S Erp Consulting 7:41
33. Glenn Cameron (ON) Sound Solutions 7:44
34. David Moore (ON) Darkhorse Flyers 7:46
35. Lorne Anderson (ON) Lapdogs Cycling Club 7:58
36. Trevor Rickwood (ON) Sudbury Cycling Club 8:14
37. James Cook (ON) James Cook 8:22
38. Andrew Rucklidge (ON) Wheels Of Bloor 8:27
39. Edmond Mellina (ON) Lapdogs Cycling Club 8:34
40. Michael Mandel (ON) Rideallday.ca Cc p/b Real Deal Racing 8:43
41. Doug Richards (ON) Elite Health 8:48
42. Jason Vincze (ON) Sound Solutions 9:00
43. Chris Yeates (ON) Cycle Solutions/Angry Johnny's CC 9:00
44. Joel Rose (ON) The Hub Race Team 9:14
45. Dan Proulx (BC) Independent 9:22
46. Corey Tkachuk (ON) Darkhorse Flyers 9:37
47. Scott Bentley (ON) Sound Solutions 10:36
48. Shawn Conlon (ON) Cyclocrossracing.com 11:04
49. Donald Smith (ON) Elite Health 11:19
50. Scott Enns (ON) Lapdogs CC 11:53
51. James Bongard (ON) Sound Solutions -1 lap
52. Pary Bell (ON) Darkhorse Flyers -1 lap
53. Marc Joanisse (ON) London Centennial Wheelers -1 lap
54. Sean Wheldrake (ON) Opus/OGC -1 lap
55. Erick Begin (ON) Midweek Cycling Club -1 lap
56. Stephen Gregory (ON) Independent -3 laps
DNF Steve Bachop (BC) IRC p/b Robert Cameron Law
DNS Neil Armstrong (ON) Team CF
DNS Jeff Weber (ON) Sound Solutions
DNS Sam Cohen (ON) Canadian Cycling Magazine
Master 30-39 Men – 5 laps – 17.5km
1. Peter Mogg (ON) Stevens Racing p/b The Cyclery 0:50:18
2. Chris McNeil (AB) Topgear/Road 0:26
3. John Clark (AB) Hardcore 0:36
4. Matt Surch (ON) Steelwool Bicycles/Tall Tree Cycles 1:14
5. Jon Barnes (ON) Trek Canada 1:34
6. Tristan Smit (ON) Evolution Cycles 1:52
7. Demetre Kalkounis (ON) Cycle Solutions/Angry Johnny's Cc 3:23
8. Craig Debellefeuille (AB) Cyclemeisters 3:32
9. Craig Hawkes (ON) The Cyclery 3:41
10. Mark Sugita (ON) Independent 4:07
11. Jamie Pold (ON) Steelwool Bicycles/Tall Tree Cycles 4:41
12. Jamie Sprules (ON) Chain Reaction/Molson 67 4:47
13. Greg Marshall (ON) HBCC 4:59
14. William Fu (ON) Pedal Performance Cycling Club 4:59
15. Kevin Tearle (ON) Team CHCH 5:03
16. Alan Reain (ON) Lapdogs 5:24
17. Chris Reid (QC) Ride with Rendall 5:40
18. Regan Pringle (BC) Pro City Racing 5:41
19. John Provart (ON) Chain Reaction/Molson 67 -1 lap
20. Bob Tomsic (ON) Canhear Uganda -1 lap
21. Jason Mottaz (ON) Team Silent Sports -1 lap
22. Pavle Stanojevic (ON) Nacsworld.com -1 lap
23. Mark Cascella (ON) Darkhorse Flyers -1 lap
24. Matthew Pioro (ON) Lapdogs Cycling Club -1 lap
DNF Mark Brusso (ON) Lapdogs CC
DNF Jan Goh (QC) Pedalhead Road Works
DNS Bret Waghorne (ON) Zm Cycle & Fitness
Junior Men – 4 laps – 14km
1. Yohan Patry (QC) Ride with Rendall 0:38:17
2. Tommy Beaulieu (AB) Team Alberta 0:26
3. Benjamin Perry (ON) Team CHCH 0:31
4. Samuel Beaudoin (AB) Team Alberta 0:32
5. Neil Symington (NB) Atlantic Cycling Centre 0:45
6. Christopher Prendergast (MB) Team Manitoba/Woodcock 0:52
7. Edouard Tougas (QC) Prud'homme-IGA 1:58
8. Alexandre Vialle (QC) Cvm Val David 2:43
9. Tyler Lee (ON) St. Catharines Cycling Club 2:56
10. Adam Jamieson (ON) Team Hardwood Cycling and Ski Club 3:04
11. Max Toeldte (ID) Byrds 3:22
12. William Elliott (ON) Black Tooth Grin 3:33
13. Sean Mackinnon (ON) Racer Sportif/Mattamy Homes CC 3:48
14. Stefan Milosevic (ON) Chain Reaction/Molson 67 4:00
15. Connor Nevin (ON) Independent 5:41
16. William Etherington (ON) J&J Cycle 7:02
17. Conner Rapus (ON) Independent 7:53
18. Morgan Macphee (ON) Soigneur Race Services Race Team 9:26
19. Donovan Martin (ON) Reactivated Racing -2 laps
U23 Men – 6 laps – 21km
1. Evan McNeely (ON) EMD Serono/Specialized 0:53:31
2. Jared Stafford (ON) Ride with Rendall 0:16
3. Jeremy Martin (QC) Rocky Mountain Factory Team 2:17
4. Felix Bouvette (QC) Prud'homme/IGA 2:59
5. Mitchell Bailey (ON) Trek Canada MTB Team 3:16
6. Andrew L'esperance (NS) Norco Factory Team 4:05
7. Michael Van Den Ham (MB) Team Manitoba 4:17
8. Conor O`Brien (ON) EMD Serono Specialized 5:56
9. Stephen Cooley (SK) Team Sask 6:05
10. Andrew De Cal (ON) Liberty! Bicycles 6:23
11. Matthew Farquharson (ON) lapierre Canada 6:35
12. Joel Desgreniers (QC) Unattached 6:46
13. Zachary Hughes (ON) Independent 7:15
14. Preston Wagler (ON) 3Rox Racing 7:31
15. Bretton Matthews (ON) Total Sports The Bike Shop 7:39
16. Alexander Gibson (ON) Esteemtraining.com -1 lap
17. Tyson Wagler (ON) 3Rox Racing -1 lap
18. Kiernan Orange (QC) Ride with Rendall -1 lap
19. Alex Schmidt (ON) Liberty! Bicycles -2 laps
20. Corey Brioschi (ON) Revolt Racing -2 laps
21. Stephen Andrichuk (AB) Cyclemeisters -3 laps
DNF Evan Guthrie (ON) Rocky Mountain Bicycles Factory Team
DNF Connor Wilson (AB) Team Alberta
Elite Women – 4 laps – 14km
1. Emily Batty (ON) Subaru-Trek 0:40:59
2. Pepper Harlton (AB) Juventus 0:33
3. Mical Dyck (BC) Pro City Racing 1:15
4. Evelyne Blouin (QC) Unattached 1:58
5. Jean Ann Berkenpas (BC) Xprezo-Borsao 2:18
6. Amanda Sin (ON) 3 Rox Racing 2:30
7. Veronique Fortin (QC) Rocky Mountain Valeur Mobiliere 3:20
8. Julie Lafreniere (QC) Stevens Racing Canada p/b The Cyclery 3:23
9. Melissa Bunn (ON) Independent 3:25
10. Leigh Hobson (ON) The Hub Race Team 3:34
11. Andreanne Pichette (QC) Opus/OGC 3:43
12. Sarah Stewart (BC) Independent 3:52
13. Shantel Koenig (AB) Team Alberta 4:43
14. Laura Bietola (ON) 3Rox Racing 5:07
15. Mandy Dreyer (ON) lapierre Canada 5:16
16. Vicki Thomas (ON) Ottawa.Cx 5:35
17. Emily Flynn (ON) EMD Serono-Specialized Cycling Club 5:52
18. Briana Illingworth (ON) TRUE North Cycles 7:29
19. Anna Schappert (MB) Bikes and Beyond 7:44
20. Katlyn Dundas (ON) Team Hardwood Cycling and Ski Club 7:46
21. Amanda Wakeling (BC) Trail Bicycles Eatmore Sprouts 10:45
Elite Men – 7 laps – 24.5km
1. Chris Sheppard (BC) Rocky Mountain Bicycles/Shimano 1:01:52
2. Mark Batty (ON) SpiderTech powered by C10 0:21
3. Aaron Schooler (AB) Team H&R Block – SRI Importing 0:22
4. Derrick St. John (ON) Stevens p/b The Cyclery 0:42
5. Andrew Watson (ON) Norco 0:55
6. Mike Garrigan (ON) lapierre Canada 1:16
7. Adam Morka (ON) Trek Canada 1:21
8. Craig Richey (BC) Renner Custom CX Team – Raleigh 2:08
9. Mark McConnell (AB) Team Alberta 2:37
10. Kevin Calhoun (BC) Rocky Mountain Factory Team 3:05
11. Peter Glassford (ON) Trek Canada 3:19
12. Aroussen Laflamme (QC) Xprezo-Borsao 3:59
13. Nathan Chown (ON) Team CF 4:22
14. Shaun Adamson (AB) Cycle-Smart 4:30
15. Tyler Trace (BC) Trek Red Truck 4:52
16. Peter Morse (ON) Jet Fuel Coffee/La Bicicletta 5:06
17. Matthew Krahn (AB) Redbike 5:21
18. Nathan Underwood (QC) Ride with Rendall 5:25
19. Marc-Andre Daigle (QC) Garneau-Club Chaussures-Norton Rose 5:52
20. Thierry Laliberte (QC) Xprezo-Borsao 6:44
21. Douglas van den Ham (ON) Nine2fivepro.com Cycling Team 6:54
22. Erik Box (ON) Nativo/Devinci 7:19
23. Peter Mancini (ON) Esteemtraining.com 7:57
24. William Goodfellow (QC) Lotto-Bodysol Pole Continental Wallon -2 laps
25. Colin Busby (ON) Chain Reaction/Molson 67 -2 laps
26. Stephen Keeping (ON) Stevens p/b The Cyclery -3 laps
27. Jeff Moote (ON) Cyclocrossracing.com -3 laps
28. Matt Zdriluk (ON) Reactivated Racing/Primary/SRAM/Trek -3 laps
29. Adam Poll (ON) Waterloo Cycling Club -4 laps
DNF Kevin Noiles (BC) Sportique
DNF Drew Mackenzie (BC) The Condo Group/Shimano/Marin
DNF Marco Li (ON) Garneau-Club Chaussures-Norton Rose
DNF Matt Thomas (ON) Soigneur Race Services Race Team