September 23, 2013 (Vancouver, BC) – It's time to get dirty. On Sunday, September 29, the 13th Vanier Park Cyclocross as part of the Vancouver Superprestige Series by SHIMANO, will be back in Vancouver, BC.
The North Shore mountains and False Creek will provide the magnificent backdrop as racers hit the beautiful Vanier Park in the very heart of Vancouver. The race will be a true test of hardcoreness (!) and features a double-header with Saturday's New Brighton Cross in Vancouver, BC. And the forecast is calling for rain … the first time in years … well, get ready, folks.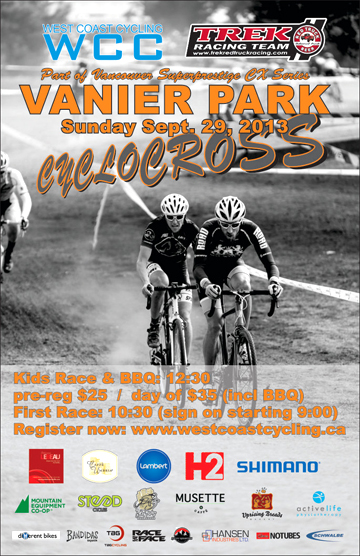 Event Schedule (subject to change, please check back often for updated information)
– 9:00am – Registration opens (sign on ends 15 minutes prior to each start)
– 9:30am – Belgian Waffles by Patisserie Lebeau and Coffee by Caffe Umbria
– 10:00am – Neutral Support by Vancouver Bike Galley
– 10:30am – Citizen Women/Men, Junior Women/Men (40 minutes)
– 11:30am – Open/Master Women, Cat 3/4 and Master 3/4 Men (45 minutes)
– 12:30pm – Free Kids' Race by Steed Cycles 3-7 years (5 minutes) and 8-12 years (10 minutes)
– 12:30pm – BBQ is heating up (with veggie options of course)
– 1:00pm – Elite Men (60 minutes), Masters Men 1/2 and Single Speed (45 minutes)
We would encourage pre-reg ($25) but we still have registration on race day ($35).
Please car pool as much as possible since there is only pay parking in Vanier Park. Try to be nice to the locals, dog walker and pedestrian (and race officials, volunteers, Mother Nature … well, you get it).
There will be the usual fork lift action for Bard on the Beach tear-down so please be careful.
For details please go here.
Hope to see you in Vanier Park …